Mission
The Kean University College of Education's Resource Center's (Formerly the Praxis Resource Center) mission is to promote the success of all prospective educators in passing the Praxis Series tests.  The center is dedicated to enhancing student achievement and confidence by strengthening comprehensive learning, providing academic support services to all students, reinforcing course content, along with emphasizing good study habits and effective test-taking skills.  This is accomplished through the use of different learning strategies, tutoring, supplemental instruction, learning assistance and collaborations with Center Experts that allow students to achieve their academic goals.  Faculty, instructors and staff members are committed to providing a welcoming and stimulating environment that prepares students to achieve their goals as future educators.
What are the Praxis tests?
Praxis Core Academic Skills for Educators (CORE)
The Core assesses skills in mathematics, reading, and writing of the teacher candidate. In order to enter a College of Education (COE) teaching program, you will have to pass the Praxis Core. Please make an appointment with your education advisor to review the other requirements for entering the program of your choice.
Praxis II Subject Assessments
The Praxis II assesses content knowledge in specific subject areas that beginning teachers will need.  In order to qualify for your senior field experience, you will have to pass the Praxis II content knowledge in your education major. 
Praxis Core Information Flyer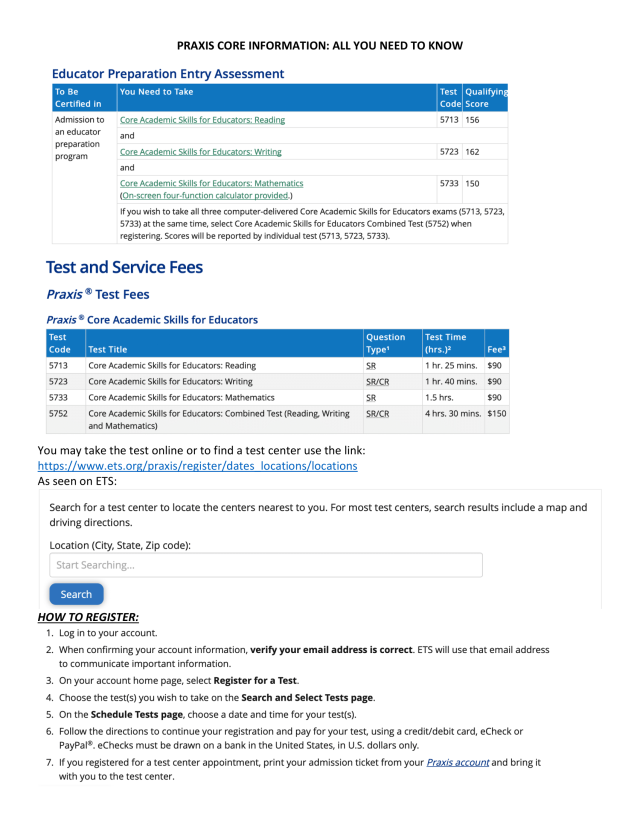 Individuals can direct where to send the test scores during the registration process. Input this code for Kean University: 
Kean University: 2517 
NJ Department Of Education: 7666
Please know that if you decide to share your scores to additional institutions after taking the test you will be charged an additional $50.