Center for Clinical Laboratory Science and Pandemic Research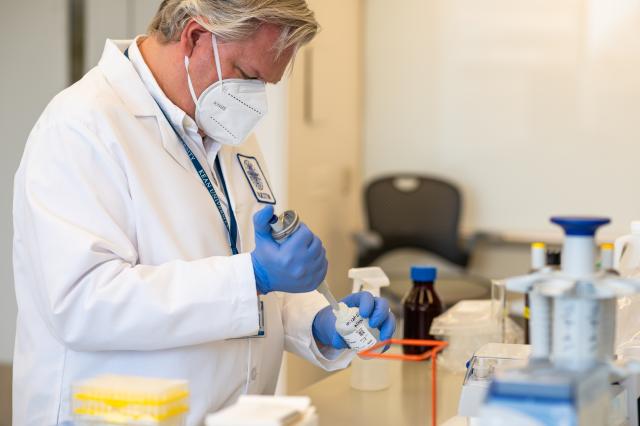 The new Center for Clinical Laboratory Science and Pandemic Research at Kean University is one of the first interdisciplinary academic centers in the nation to focus on education, clinical diagnostics and research related to pandemics and public health.
Developed during the COVID-19 global pandemic, the center encompasses the Kean CLIA laboratory, a fully compliant clinical laboratory for COVID-19 testing that operates as a unique partnership between the University and the County of Union. The lab is capable of processing results for up to 30,000 tests per week from the county's on-campus testing site and other locations. With a turnaround time of 24 to 48 hours for test results, this facility will significantly contribute to the County and State's efforts to control the virus.
The Center also coordinates and facilitates pandemic research initiatives in science, social science and other disciplines across the University. Initial participation includes 45 faculty representing all of the University's colleges conducting or planning over 50 pandemic research projects as part of their scholarly activity or with students through coursework, independent study and graduate-level research. 
Students representing diverse majors such as science, technology, business and communication will be able to participate in Center activities through federal work study, internships and research projects. Faculty mentors will work with students through immersive experiential learning to prepare them for the workforce by developing skill sets in complex problem solving, troubleshooting and team building.
The Center is also a hub for launching future related academic programs at Kean as well as special programs for the wider community, including lecture series, symposia and workshops on the multidisciplinary aspects of pandemics.
The Center is supported by an Advisory Board composed of University personnel and external stakeholders from the scientific and business communities. Founding members of the Presidential Advisory Board include Kean Senior Vice President for Research Jeffrey H. Toney, Ph.D., the deans of Kean's seven colleges as well as faculty and student representatives. The Presidential Advisory Board will play an important role in evaluating the Center's programming.
A unique component to the Center is its partnership with the Institute for Life Science Entrepreneurship (ILSE) at Kean. The independent, nonprofit research institute, business accelerator and incubator located in Kean's STEM Building is a leader in the development of startup biopharma companies. ILSE is also a key partner of the global nonprofit CARB-X (Combating Antibiotic-Resistance Bacteria Biopharmaceutical Accelerator) in its mission to thwart the rising worldwide threat of drug-resistant bacteria and fund the early development of new antibiotics, vaccines, rapid diagnostics and other products to address the crisis. ILSE's multidisciplinary expertise and networks are uniquely qualified to support the Center.