Keynote Speaker - Research Days 2019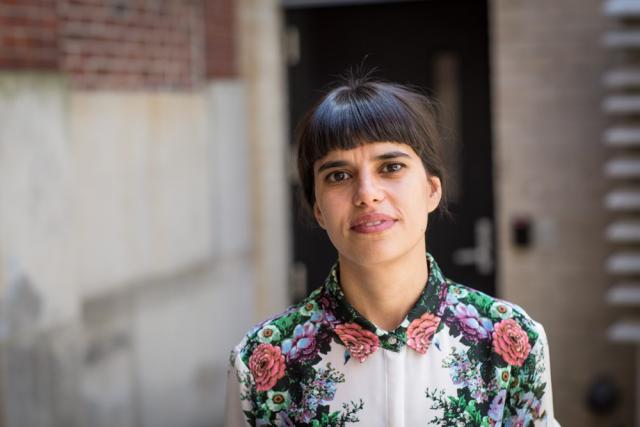 Paula Gaetano Adi, MFA
Associate Professor
Division of Experimental & Foundation Studies
Rhode Island School of Design (RISD)
Mestizo Robotics & Otras Especulaciones
Wednesday, April 24, 2019
11:30 a.m. - STEM Auditorium
The Keynote Speaker for the 2019 Kean's Research Days will be Paula Gaetano Adi, artist and associate professor at the Rhode Island School of Design.  Gaetano Adi is best known for her speculative robotic sculptures and machines that explore the poetics and politics of technology by resisting the scientific conventions that dictate how to make, think, circulate, and operate technology. Over the last decade, Gaetano Adi has created robotic agents that call into question the arguments for disembodiment in the cybernetic tradition, performed absurd and poetic scenarios of machine and human encounters, and developed hybrid forms that employ a combination of robotic technologies with traditional crafts and vernacular materials and knowledges.
Gaetano Adi has exhibited her works internationally in locales such as Beijing, Stockholm, Madrid, New York, Mexico City, Sao Paulo, Berlin, Moscow, among others. She received awards for her work such as the First Prize VIDA 9.0 by Telefonica Foundation, the First Prize LimbØ / Museum of Modern Art Buenos Aires, the National Endowment for the Arts. Visiting scholar at REMAP / UCLA, professor at UNTREF Electronic Arts, and resident at EMPAC Rensselaer Polytechnic Institute, she has lectured and published worldwide contributing actively to the field of new media art.
Gaetano-Adi obtained a degree in Media Studies from Universidad Blas Pascal in Argentina and an MFA with emphasis in Art & Technology from The Ohio State University. She was visiting scholar at the UCLA REMAP, University of California Los Angeles, and artist-in-residence at Sachaqa Eco Art Center (Perú). She has served as a faculty for the Electronics Arts program at the Tres de Febrero National University in Buenos Aires and the Rensselaer Polytechnic Institute in Troy, NY, and she directed the undergraduate and graduate program in New Media Art at the University of North Texas. She is currently Associate Professor at the Rhode Island School of Design (RISD), in the Division of Experimental and Foundation Studies.
| | |
| --- | --- |
| | Mestizo Robotics |
| Alexitimia | |
| | Anima |