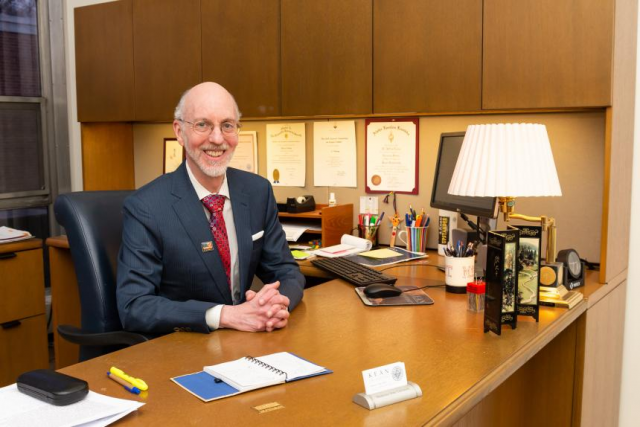 I have the honor of making sure that all students receive a world-class education, accessible and affordable, to prepare them for fulfilling careers of the future.  In his first Opening Day Address, President Repollet focused on three pillars for this Fall:  safety, academic excellence and equity.  Our team of academic leaders, ranging from deans to executive directors, chairs and program coordinators are dedicated to supporting students to ensure that they achieve heights unimaginable before coming to Kean, working closely with all Divisions across the University.  Cougars climb higher!
This Fall, we are offering several new majors and minors, including a Bachelor of Science (B.S.) in management, business analytics, a B.S. in computer science, data science option, a B.S. in exercise science, an Master of Science (M.S.) program in genetic counseling, and an MS in Athletic Training coming soon.
The Nancy Thompson Learning Commons (NTLC) provides student academic support in writing, professional speaking, and tutoring as well as a wide range of workshops. Students can schedule an in-person or online tutoring session and use a "24/7" Chat Service.  The NTLC oversees the campus wide Open Educational Resources (OER) effort to ensure low or no-cost textbooks across all courses.  Our Teaching and Visualization studio will open soon with an immersive 270-degree view for students and faculty to explore and create!
Kean has a vibrant growing culture of research and creativity, with opportunities from freshman year through the doctoral level.  I encourage you to explore our Center for Undergraduate Research and Fellowships, the Freshman Research Initiative, Research Recruits for sophomores or juniors and our Students Participating with Faculty.  The McNair Scholars program and the Garden State LSAMP program help prepare our students who are interested in graduate programs. The Career Services Center in the Center for Academic Success supports students to begin their career path and to find an internship.  This is a great opportunity to learn how to be a successful professional as well as pursue research.  Since 2018, our students have successfully completed research internships at the very best institutions, including Harvard and MIT.  All Kean students are invited to participate in Kean University Research Days held every April.  Last year, over 1,700 Kean students registered to be part of this days-long celebration of research and creative work.
Take advantage of all that Kean has to offer. This is your time to discover who you really want to become.  If you need some guidance or support, reach out to our academic team.
I wish you great success this academic year!
Biography
Toney obtained a B.S. in Chemistry from the University of Virginia and a M.S. and Ph.D. in Chemistry from Northwestern University. He was a post-doctoral fellow in Molecular Biology at Dana-Farber Cancer Institute, Harvard Medical School and a post-doctoral fellow in Chemical Biology at the Massachusetts Institute of Technology. Toney was appointed Provost and Vice President for Academic Affairs in 2013 and is currently Senior Vice President for Research at Kean University. In June 2019, he was named as a Visiting Professor at MIT in the Department of Linguistics and Philosophy. In June 2020, he was also named as a Visiting Scholar in the Department of the History of Science at Harvard University.
He has published a wide range of scholarly scientific articles with students as co-authors, with more than 3,200 citations and holds six US patents. He has given invited seminars at academic and professional conferences at Harvard University, Yale University, Massachusetts Institute of Technology, George Washington University, University of Virginia and the American Association for the Advancement of Science, among others. He is a member of the Advisory Board for SurgiBox, an MIT-D Lab initiative. He recently received an #SciCommMake award from Sigma Xi, the Scientific Research Honors Society, and Science Talk, for his work in science communication.
Research Interests
Toney's current student-focused research is focused on:
Science and human rights
Antiracism
Drug discovery
Integration of the arts and humanities into science and science education
History and philosophy of science
Diversity, equity and inclusion in higher education
Each of these projects relies upon key collaborations with Kean University faculty as well as outside the University, including Harvard and MIT.