COVID-19 Vaccinations and New Jersey's Path Forward
Kean University, in collaboration with the State of New Jersey, is holding a series of discussions with government, health and policy leaders to discuss critical issues and solutions surrounding COVID-19 vaccinations.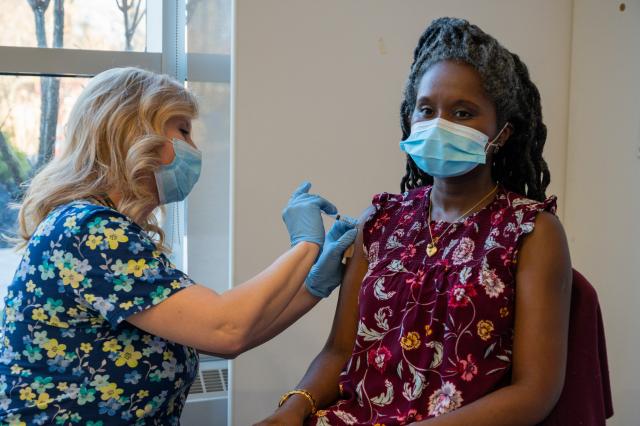 Roundtable Series
Watch the Kickoff Event here.
The roundtables will be streamed via YouTube for the public to view at 10 a.m. every Friday through March 5. Viewing information will be posted before each panel.You can join the conversation on social media using #KeanCovidTalks.
March 5: Supporting Women at Work and at Home
As Women's History Month begins, this panel will include policy and advocacy experts and address the impact of the pandemic on women professionally and personally as well as solutions and strategies to mitigate those issues in New Jersey. The panel will include: 
Moderator:
Bishop Leah D. Daughtry, Presiding Prelate of The House of the Lord Churches and Principal of On These Things, LLC

Panelists:
Lamont O. Repollet, Ed.D., President of Kean University
U.S. Rep. Bonnie Watson Coleman, (D-N.J.,12th District)
Randi Weingarten, President of the American Federation of Teachers
State Senator M. Teresa Ruiz, 29th Legislative District of New Jersey
Assemblywoman Shavonda E. Sumter, 35th Legislative District of New Jersey
Deborah Cornavaca, Deputy Chief of Staff of Outreach, Office of the Governor
February 26: Returning to Play for New Jersey's Student Athletes
This panel will include coaches and educators and address how to bring student athletes back to the playing field while also protecting their safety. The panel will include:
Moderator: 
Rev. David Jefferson, Jr., Counselor/Academic Advisor, PASSPORT Program, Kean University
Panelists:
Lamont O. Repollet, Ed.D., President of Kean University
Assemblyman Benjie Wimberly. 35th Legislative District of New Jersey
Dr. Margaret Fisher, world-renowned pediatric infectious disease consultant and advisor to NJDOH Commissioner Judy Persichilli
Kelly Williams, Athletic Director, Kean University
Colleen Maguire, Chief Operating Officer, NJSIAA
Denise Wujciak, Director of Sports Medicine/SWA, Kean University
Barris Grant, Head Football Coach, Hillside, NJ
February 19: Next Steps for our Urban Communities
This panel included government leaders in the state's urban communities and addressed strategies for reaching urban communities with important vaccines messages. The panel included:
Moderator:
Kellie Drakeford LeDet, Special Assistant to the President for Government Affairs and Community Partnerships, Kean University

Panelists:
Lamont O. Repollet, Ed.D., President of Kean University
U.S. Rep. Albio Sires, (D-N.J., 8th District)
Dr. Chris T. Pernell, MPH, FACPM, Chief Strategic Integration and Health Equity Officer, University Hospital, Newark
Amanda Medina-Forrester, Executive Director, Office of Minority and Multicultural Health, NJ Department of Health
Edward T. Oatman, Union County Manager and member of Kean University Board of Trustees
Mayor Chris Bollwage, Elizabeth
Mayor Marty Small Sr., Atlantic City
Mayor Dahlia Vertreese, Hillside
Carlos Medina, Chairman of the Statewide Hispanic Chamber of Commerce
February 12: Vaccines Safety and Efficacy
This panel included health experts and directly addressed the stigma and apprehension felt by communities of color regarding vaccine safety. The panel included:

Moderator:
Bishop Leah D. Daughtry, Presiding Prelate of The House of the Lord Churches and Principal of On These Things, LLC

Panelists:
Lamont O. Repollet, Ed.D., President of Kean University
U.S. Rep. Bonnie Watson Coleman, (D-N.J.,12th District)
Rev. Derrick Green, Senior Policy Advisor to Governor Phil Murphy
Dr. Eddy Bresnitz, former Deputy Commissioner and State Epidemiologist, N.J. Department of Health
North Brunswick Councilwoman Claribel Cortes, Governor Murphy's nominee for Middlesex County Surrogate
Reva Foster, Chairwoman of the New Jersey Black Issues Convention
Kimberly Cook, President of the Hillside Board of Education