Faculty Research Mentor of the Year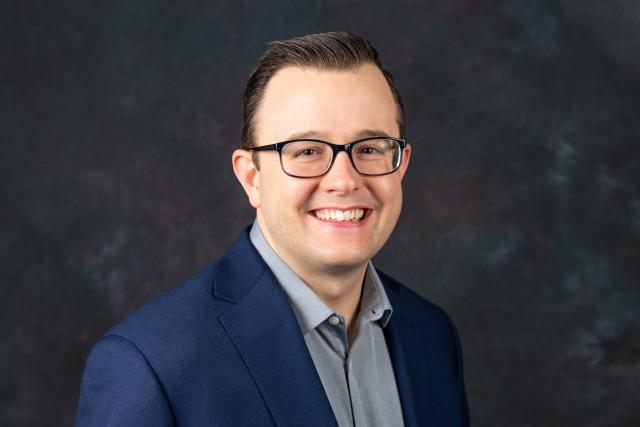 Edward Johnston, MFA, M.Ed
Associate Professor, Robert Busch School of Design, Michael Graves College
Faculty Research Mentor of the Year, 2020
This year's honoree, Prof. Ed Johnston, has led his student mentees to do extraordinary work resulting in prestigious accolades. There is no better evidence of his commitment than the student-driven "Liberty Hall 360: Revolutionary Wedding" immersive film project, which has won the international MarCom Platinum Award for virtual reality (VR) and is currently nominated for a 2020 New York Emmy Award.
The Liberty Hall 360 project was written and produced by Kean students under the guidance and supervision of Prof. Johnston and Prof. Henry Stankiewicz of the Robert Busch School of Design in the Michael Graves College; Dr. Jonathan Mercantini and Dr. Elizabeth Hyde in the Department of History and College of Liberal Arts; William Schroh Jr. and Rachael Goldberg of Liberty Hall Museum; and the University's Director of Digital Media Production Emmanuel Vozos. The project was directed by Johnston and Vozos with a cast and crew of students, alumni, faculty, staff and neighbors of Kean. Johnston prioritized the development of student educational opportunities, elevating students into key team positions, inviting their input and establishing high expectations for quality work. All of the students working on this project have "Nominated for a NY Emmy" on their resume before they graduate.
The mentoring of both research and creative work of his students has led to international publications online and in print, including in Distinguished Professor Robin Landa's prestigious book Graphic Design Solutions and many presentations such as at the International Symposium for Electronic Art, Design Incubation, UCDA Design Education Summit, and the Haworth Corporation.
Prof. Johnston also has had great success cultivating organic collaboration across academic and administrative units. Johnston and Prof. Denise Anderson have developed and published on "Proto-Portfolio," a research process in which students are guided to continuously validate projects through their courses with a special focus on developing integrated brand experiences for their final Graphic Design portfolios.
Johnston launched a new Research and Development course in the Graphic Design program with students from the first year to fourth who are interested in design research. Projects include: a 360-degree VR walk-through experience of the Michael Graves residence; the Arbor Experience at Kean University with Professor Daniela Shebitz and Botany students; Michael Graves Exhibit in China; and several initiatives from the Nantucket Historical Association (NHA). Johnston is partnering with colleagues in the Design Studio Practicum course and Associate Dean Rose Gonnella using his expertise in immersive design to create projects for the NHA, such as: Whale Rescue Experience, Harbor Visualization (headset experience), and projected experiences in historic houses. The projects created for and in partnership with the NHA have led to internships in Nantucket in Summer 2020 for two design students.
Johnston taught and mentored John Weigele in obtaining an internship at the high-powered immersive design studio: Local Projects, NYC. John is now a Walt Disney Imagineer in Immersive Experiences at Hollywood Studios, Disney World. Johnston's research mentees have won international competitions, including Liam Elias '19, who won the best overall portfolio in the Animation/Visual Effects category for the Young Ones Student Awards, one of the world's most acclaimed student design competitions. Liam also won in the Design for Good category for his 3D animated short "Hugo". These awards ranked Kean University in the top three internationally in the Young Ones Portfolio College Rankings, tied with the Royal College of Art, SCAD, and MICA. Also, Kean University was ranked in the top 20 for the overall Young Ones Competition. Liam graduated last May, and has a position at Gentleman Scholar, a top-tier creative production studio. Liam's latest work can be seen in Target's "Through the Bullseye" advertising campaign.
Johnston's students learn to approach their projects through a design thinking methodology while developing lifetime learning habits essential for any creative professional.