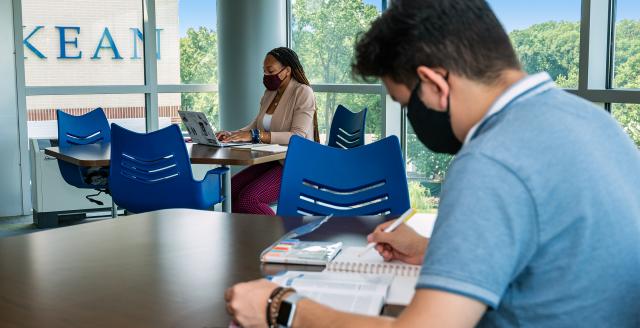 Welcome to the Return to Campus website.  Kean University campuses will return to remote learning and working on Monday, November 23, through the end of Fall semester. The Spring semester will begin as scheduled on January 19, and all classes will be delivered remotely for the first four weeks of the semester. Most of the Kean Union and Kean Ocean campuses will be closed from Thursday, December 24, 2020 through Friday, January 1, 2021 with the following exceptions as determined by the respective department heads:
Open on campus Thursday, December 24 through Thursday, December 31:
Open virtually to assist students Thursday, December 24 through Thursday December 31 (excluding the State holidays):
Learning Commons
Office of Student Accounting
Office of Admissions
One Stop
These Departments will have adjusted hours for remote student services that will be posted on their departmental website.
If you wish to get tested for COVID-19 at the Union County drive-thru testing site on campus, please make an appointment here.
If you are a student or have knowledge of a student who is experiencing symptoms of COVID-19, is currently being tested or has tested positive for COVID-19, fill out this Student Reporting Tool. Faculty and staff who are experiencing symptoms or have been diagnosed with COVID-19 should contact Human Resources at (908) 737-3316.
If you wish to download New Jersey's free COVID Alert NJ exposure notification app or learn more about this new tool, click here.
Please visit our Cougar Restart Guide for contact information and hours of operation for on-campus and virtual services. Have a great semester.