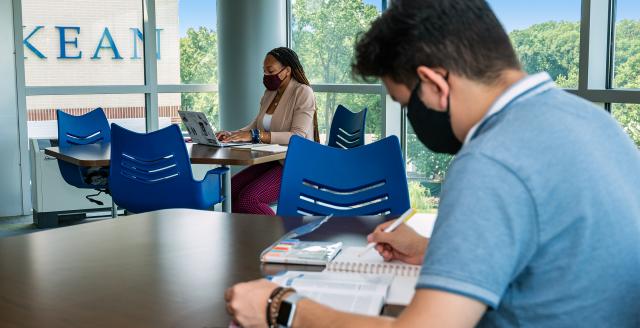 Welcome to the Return to Campus website. Kean University resumed classes for the Spring 2021 semester entirely remote on Tuesday, January 19, 2021, and most employees returned to campus on a cohort schedule beginning Monday, March 1. On March 1, the University also entered a face-to-face and hybrid phase that will add on-campus instruction to about 20 percent of courses. The semester will end on Wednesday, May 5.
If you wish to get tested for COVID-19 at the Union County drive-thru testing site on campus, please make an appointment here.
If you are a student or have knowledge of a student who is experiencing symptoms of COVID-19, is currently being tested or has tested positive for COVID-19, fill out this Student Reporting Tool. Faculty and staff who are experiencing symptoms or have been diagnosed with COVID-19 should contact Human Resources at (908) 737-3316.
If you wish to download New Jersey's free COVID Alert NJ exposure notification app or learn more about this new tool, click here.
Please visit our Cougar Restart Guide for contact information and hours of operation for on-campus and virtual services. Have a great semester.