Health & Safety Announcements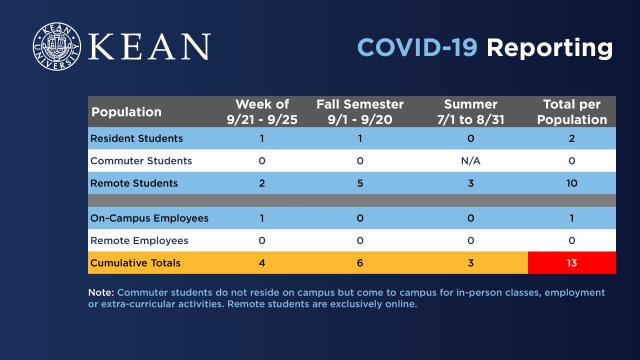 September 16, 2020 - Important Safety Training for Students
The University is pleased to welcome back the students who are returning to campus for face-to-face and hybrid courses beginning on Monday, September 21 as part of our Return to Campus initiative.
If you are unsure whether any of your courses will meet in person, please contact your instructor. All course formats are also listed in KeanWISE.
Regardless of whether you are scheduled to attend courses on campus in the Fall semester, you must review the training presentation to learn about protocols currently in effect on campus.
To access the Safety Training Presentation, click here.
Kean students who are on campus for any reason, including attending classes, working on campus or participating in campus activities, during the Fall 2020 semester are required to:
Review the Cougars Care Pledge available online.
 
Confirm completion of this training by completing the health screening survey at the end of the presentation before Monday, September 21.
 
Use the #CampusClear app every day you are on campus. Further information about downloading the app is available in the training presentation.
 
Display your Kean ID card while on campus at all times. Further instructions for obtaining an ID, lanyard and ID card holder are included in the training presentation.
*Residential students should complete the residential student safety training that was sent to them earlier by email. Residential students DO NOT need to complete this training. 
Please note that the University expects all students to follow the state's 14-day quarantine travel advisory, which means you should inform your instructors of any travel to those states as well as any international travel within the past 14 days and not return to campus at this time. You should also include that travel on the health screening survey.
Thank you for your participation in this important training program.
September 12, 2020 - Kean Student Tests Positive for COVID-19
A Kean University student who lives on campus has tested positive for COVID-19 and is now isolating at home.

The student, a resident of Freshman Residence Hall, had limited exposure to others on campus during this remote learning period and primarily spent time in the student's assigned residence hall suite. The student was experiencing mild symptoms and chose to leave campus to return home and pursue testing.

The student has one suitemate. The suitemate is quarantining on campus and awaiting the results of a recent COVID-19 test.

In accordance with University and state guidelines, contact tracing was initiated immediately upon learning of the positive test result. To date, contract tracing has determined the student had limited exposure to other people on campus based on guidelines for exposure established by the CDC. The University is following all CDC and state protocols regarding contact tracing and will continue to inform the University community of any updates.

The Freshman Residence Hall is operating at less than half capacity this semester in accordance with social distancing guidelines. All residents have their own rooms and University policy prohibits residents from visiting other students' rooms. Students who have questions or concerns can contact Student Health Services via email at hsnurses@kean.edu or by calling (908) 737-4880.

The entire University community is reminded to remain vigilant in the fight against COVID-19 by wearing masks, washing hands frequently and keeping a safe distance from others both on campus and elsewhere. For more Health and Safety information, visit the Cougar Restart Guide.