Alumna Wins Prestigious National Education Award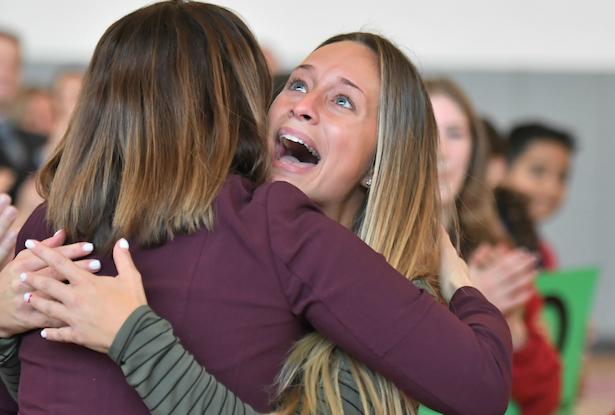 Kean University alumna Toni-Ann Palmisano got the best kind of surprise at work on Tuesday, December 19. In front of all of the students and faculty at Secaucus Middle School, where she is a math teacher, Palmisano learned that she has been honored with the national Milken Educator Award.
One of only 44 teachers across the country to receive the Milken Family Foundation's prestigious award, Palmisano was singled out for going the extra mile for her students through innovative teaching practices such as singing songs about Pi and having her students create math music videos, giving up her lunch hour to tutor students, and supporting extra-curricular activities like the yearbook and student government.
Palmisano, who received her Master of Arts in educational leadership at Kean University in 2013, was awarded a $25,000 prize and is now a member of the National Milken Educator Network, a group of more than 2,700 top teachers, principals and specialists dedicated to strengthening education. She is invited to a Milken Educator Forum in Washington, D.C. in March to learn about maximizing her leadership role to advance educator effectiveness.
The Milken Educator Award is unique – educators cannot apply for the recognition and do not know they are under consideration. A confidential selection process identifies candidates who then are reviewed by blue ribbon panels appointed by state departments of education. The most exceptional are recommended for the award, with final approval by the Milken Family Foundation.
Founded by Michael and Lowell Milken in 1982, the Milken Family Foundation strives to discover and advance inventive, effective ways of helping people help themselves and those around them lead productive and satisfying lives. The means most conducive to achieving these goals is through education.
Watch PIX11's coverage of Palmisano learning she is a Milken Educator Award recipient.
Photo Credit:  Milken Family Foundation
Tagged