Honors Student, Mom - Kean Valedictorian Managed It All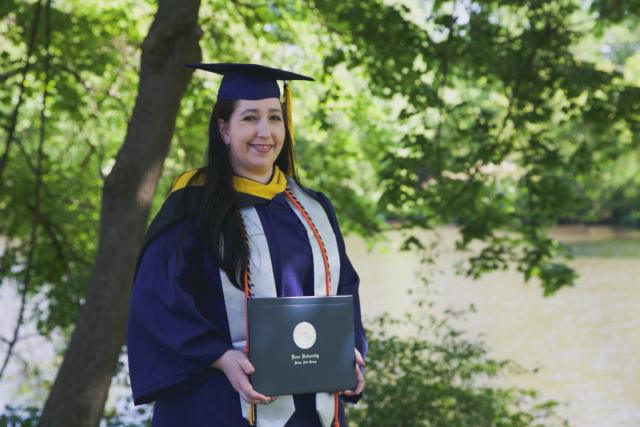 When she applied to Kean as a transfer student years after she first started college, Ariella Askew was not sure whether she would be accepted.
Now, she's graduated as valedictorian of the Class of 2020 with a perfect 4.0 GPA in the honors chemistry program -- all achieved while raising a family and giving birth to her third child in January.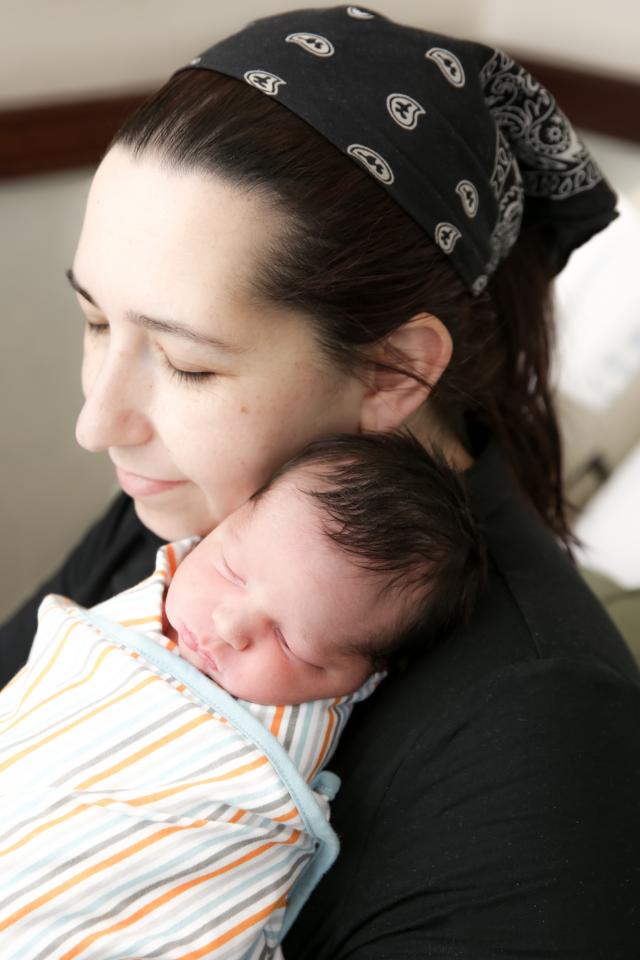 As a Kean sophomore, Askew found her calling in the lab after chemistry Associate Professor Heather Stokes, Ph.D., and Assistant Professor Yeung-gyo Shin, Ph.D., convinced her to do research in medicinal chemistry with Associate Professor James Merritt, Ph.D, at the New Jersey Center for Science, Technology and Math (NJCTM).
"Two weeks into it, I knew it was what I wanted to do with the rest of my life," she said.
Askew, of Roselle, earned a Bachelor of Science degree in science and technology/molecular biology with Honors Distinction in Research. She will pursue her master's degree at Kean while continuing research training in medicinal chemistry. She is working to develop an oral drug to treat the deadly brain cancer glioblastoma.
"I was planning to become a doctor for as long as I could remember, since I was about eight years old. Then I found this, and my entire life plans changed," she said.
As for how she balanced her work as a student with being a mom to her three children — ages 12, 9 and 4 months -- she credits her husband, parents and religious community for their support. 
"It was with great difficulty and a lot of help," she said. "I'm a member of a synagogue, and I have an amazing community there. I've met a lot of wonderful people who have been very helpful."
Askew gave the Valedictory Address during Kean's virtual Commencement on May 29. She said the Class of 2020 rose above the COVID-19 pandemic to accomplish the unimaginable. 
"This may be one of the darkest moments the world has ever faced, but we don't need to look very hard to find the light," she said. "We, the Class of 2020, will have our chance, and we will bring the light back into the world."
Askew watched Commencement in a Zoom party with her parents, she said.
Askew began doing research in Kean's Research First Initiative, said Keith Bostian, Ph.D., dean of NJCSTM. The program offers undergraduates the opportunity to enter the laboratory early in their careers at Kean.
"Research teaches students skills beyond the classroom and deepens their engagement in the subject matter as well as their problem-solving abilities. We are very proud of the program and of the success of students like Ariella," Bostian said.
Askew's long-term goals are to work in industry, creating medicines to cure diseases, and eventually teach chemistry. Merritt predicted she could excel at both. 
"Ariella is an extraordinary student," Merritt said. "She is determined and proves again and again she can do anything that she sets her mind to." 
She was also active as a tutor at Kean, taught CPR as a volunteer, and organized study groups for classmates.
"As a person, Ariella cares deeply about her fellow students and faculty," Merritt said. "In her second-semester organic chemistry class, she invited every student in class to her study group and provided food the week before each exam. That class outperformed every organic class that I have taught as a professor."
Tagged