Kean Building and Students Receive Awards in Architecture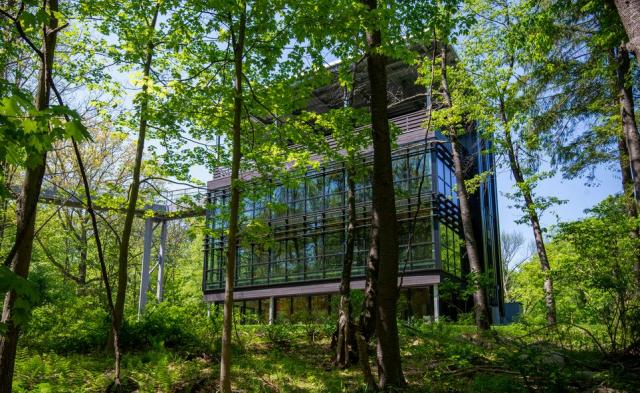 The Kean Skylands "classroom in the trees" received top design honors, and three Kean student architects won awards for their work from the American Institute of Architects Newark + Suburban Chapter (AIANS).
The Skylands academic building known as "The Cabin" won the organization's 2021 Gold Award for its environmental design that, according to the project's description, "treads lightly on the land." The building was designed by NK Architects of Morristown, who also designed Kean's Hynes Hall and Liberty Hall Academic Center. 
In addition, the top AIANS student prize and another award went to undergraduate architecture students from Kean's Michael Graves College.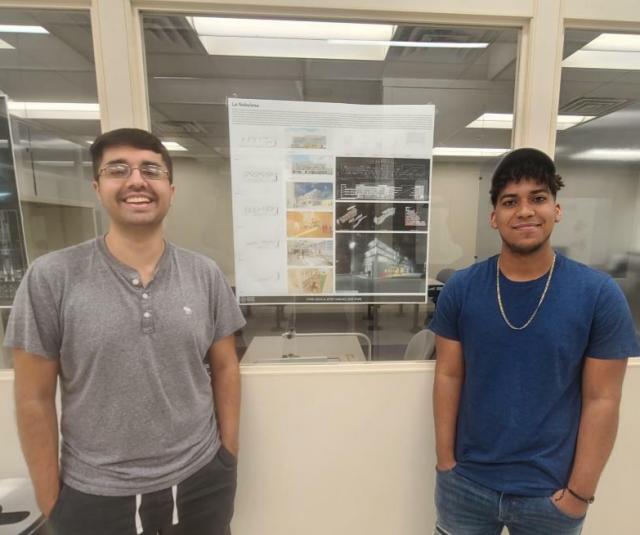 Senior architecture majors Vitor Costa, of Roselle Park, and Jeter Vasquez, of Roselle, won first place for "La Nebulosa," an adaptive reuse design that reinvents Ex Filanda, a historic building in Rome, to create dormitories for students.
A student merit award also went to junior Khalif Dowdy of Scotch Plains for his project redesigning the Park Avenue Armory in New York City. His design creates a skyscraper using sustainable techniques to build affordable housing, while also engaging people with nature. 
"These awards spotlight the talent of our students in the School of Public Architecture at Michael Graves College and quality of the education they are receiving at Kean," said Kean President Lamont O. Repollet, Ed.D. "I congratulate our architecture students for winning these top prizes, and I also commend NK Architects for their design of 'The Cabin.' They have given Kean a one-of-a-kind facility where students can be inspired and learn."
Craig Konyk, the chair and associate professor of architecture at Michael Graves College, said AIANS is the local chapter of the field's most prominent national professional organization. 
"Anytime our students are acknowledged for their professional achievements as students, it can only be a significant benefit to their burgeoning careers as architects," Konyk said, adding that the awards also include scholarships for the students.
The Kean Skylands building is part of the University's environmentally focused campus in Jefferson Township, in northwest New Jersey. Michael Graves College Dean David Mohney helped develop the initial sketch designs.
"It is gratifying to not only have our student work recognized, but for our Kean campus facilities to be honored by AIANS as well," Mohney said. "Our students are surrounded with strong architectural role models both in the form of architects and architecture."
The students began their projects by researching conditions at the existing sites, then creating the adaptive designs. Costa and Vasquez said they got insight from professors about the site in Rome after being unable to participate in the college's travel study program there due to COVID-19.
"We wanted to tell a story through our design. Having the site in Rome was the perfect example to dive into its ancient history and mythology," Costa said. 
All three student winners said they were thrilled to be honored by AIANS.
Dowdy said his project was intended to address the well-being of people in urban environments through architecture.
"This award means the absolute world to me," he said. "It highlights the start of where I want to go in life and the kinds of things I want to create."