Kean Dance Marathon Goes Virtual to Raise Money for Children's Specialized Hospital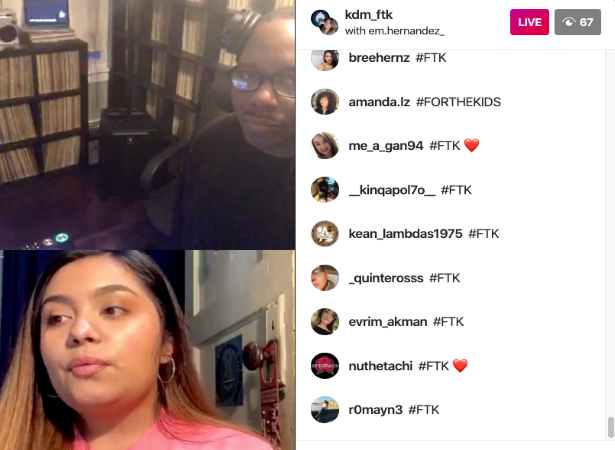 Kean students danced in their living rooms to participate in the annual Kean Dance Marathon on Instagram Live and raise money for Children's Specialized Hospital amid the COVID-19 pandemic.                             
The virtual event raised $21,500 for the hospital, which treats children with a range of chronic illnesses and physical disabilities. Donations are still being accepted until May 1 at https://bit.ly/2VLwDVd.
This year, half of the money raised will go to the hospital's COVID-19 Emergency Response Fund to purchase ventilators and personal protective equipment and to expand TeleHealth services offered by the hospital. The other half will be used to fund the hospital's Benefit Program to ensure no child is ever refused treatment based on their family's ability to pay. 
Katie Lewandowski, president of Delta Phi Epsilon and a junior from Union Beach majoring in early childhood education had a Zoom video conference with her sorority sisters so they could share the event together.
"Greek Senate did an incredible job transitioning to a virtual platform," she said. "It was definitely different, but it still gave our school the opportunity to come together and celebrate the year of fundraising."
Over the past seven years of the dance marathon, Kean's students and community have raised more than $256,000 for Children's Specialized Hospital.
"Every year, I am blown away by the positivity, hard work and compassion shown by Kean and their dance marathon leaders," said Kayla Pagnani, Children's Miracle Network hospitals program manager. "When I heard they decided to go virtual, I was thrilled. They pulled it off effortlessly, and it was awesome to see nearly 7 0 people tuned into their Instagram Live. I'm so proud of them!"
From 7-9 p.m. on Friday, April 17, students logged on to Instagram Live and shared comments as DJ Nix in the Mix played music and encouraged everyone to dance in their homes.
"Shout out to the Greeks for being here even in uncertain times to help raise awareness and money for such a great cause," one participant wrote.
Allison Carella, a senior from East Rutherford studying psychology, did double duty, attending a class online on her laptop while keeping up with the KDM action on her phone. 
"I've been going to KDM for the past three years. It was the most fun that it could have been with these circumstances," she said. "I am going to have to go to KDM again next year as an alumna because I don't want this year's KDM to be the last memory I have. I love dancing with my friends and the kids at KDM."
Throughout the event, participants heard testimonials from families who have been helped at Children's Specialized Hospital. 
Turning the dance marathon into a live online event was no small feat. Gabriella Lapointe from Howell, a graduate intern at the Center for Leadership and Service who is getting a master's degree in special education, was one of the people who helped pull it together.
"At first, we really were not sure if it would be possible to have this event virtually being that it is such a participant-heavy event," she said. "As we brainstormed together with the Greek Senate executive board, our hospital advisor and our national dance marathon regional advisor, we came up with some great ideas on how to still raise awareness for these kids and still be together at home."