Kean Graduate Steps into Success on TV's Shark Tank with 'Muvez Footwear'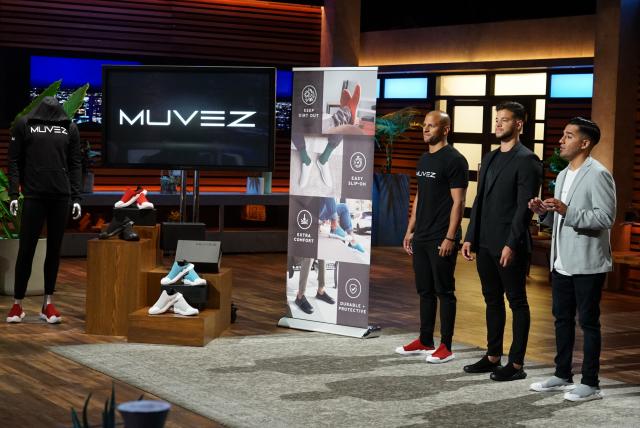 A Kean graduate who developed a new, convertible sneaker called Muvez Footwear and pitched the product on the reality TV show Shark Tank, came away with a $200,000 investment from hip-hop clothing mogul Daymond John.
Kean management graduate Eric Cruz '11 teamed up with his brother and a childhood friend to create what he calls an "athleisure" shoe, Muvez Footwear. He and his team of entrepreneurs appeared on the ABC show on Friday, April 3, at 8 p.m. 
John, the CEO of clothing company FUBU, and one of the "Sharks," offered the Muvez team $200,000 for 33.3 percent equity, then agreed to a counter-offer of 25 percent. The team was excited to partner with John, calling him their "dream Shark" who can help strengthen their company and brand in a way that they could not.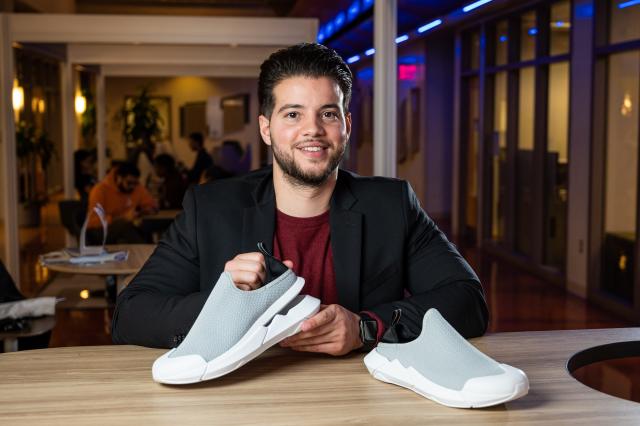 "It was surreal," Cruz said, adding that he is extremely grateful for the opportunity. "As a longtime fan of the show who usually responded to questions posed by the sharks while watching comfortably on my couch, it was quite the experience." 
The idea of Muvez — pronounced "moves" — Footwear was born when Cruz, his brother, Ryan, and their friend, Kevin Zamora, wanted a comfortable, athletic-styled shoe to wear to sports practices before putting on cleats or other active footwear.
"We thought if it doesn't exist, why not create it?" said Cruz, who played intramural sports at Kean and was active in the Kean Leadership Institute and as a student ambassador.
The Muvez shoe consists of a knit upper with a lightweight rubber sole, like a sturdy slipper, and a durable, removable "outer sole," that snaps into place on the bottom to create a slip-on sneaker. You can wear both parts outdoors -- for example, to walk the dog on a muddy day -- then slip off the outer sole when you get home, to keep your foot warm and the mud outside.
The shoe took years to develop, including sourcing materials, networking with prospective manufacturers and tweaking the design. The first prototype was built with supplies from a hardware store.
"I volunteered to dip my foot into a silicone, rubber and  foam mixture in order to create a mold for the footprint," Cruz said. "We then spent years in research and development to perfect the engineering."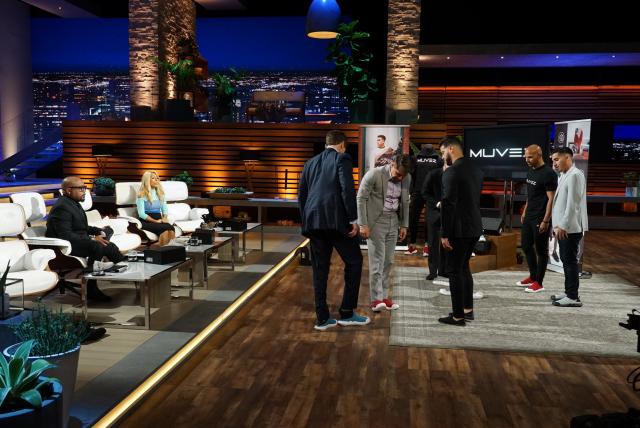 Online sales of the shoe have topped over $100,000. The creators also raised $135,000 through private equity and Kickstarter funding.
On Shark Tank, fledgling business tycoons vie for investment from a panel of business expert "sharks." Cruz said the show found Muvez Footwear on social media and reached out to them.
"At first when they emailed, we assumed one of our friends was behind it because we were only in business six months," Cruz said. "After that, there were auditions and challenges we overcame. We had a less than 1 percent chance of making it." 
The shoe team brought personalized pairs of Muvez shoes for each of the Sharks. "The Sharks were all really great," he said. "It was an experience no one can take away from us."
After Kean, Cruz earned a master's in sports administration and business from Fairleigh Dickinson University and had an internship with the Brooklyn Nets. He worked at CBS Radio and Mercedes-Benz before making Muvez Footwear his full-time job.
Also active in Nu Sigma Phi fraternity and the Association of Latin Students as an undergraduate, Cruz said he gained invaluable skills at Kean. 
"Networking, resourcefulness, learning on the go and mitigating risk, while understanding that solutions are out there -- all are critically important elements," he said. "My goal was always to be successful, which explains why I was so active on campus. Entrepreneurship kind of chose me."
Tagged