Kean President Testifies on Behalf of Hispanic Colleges and Universities at Congressional Briefing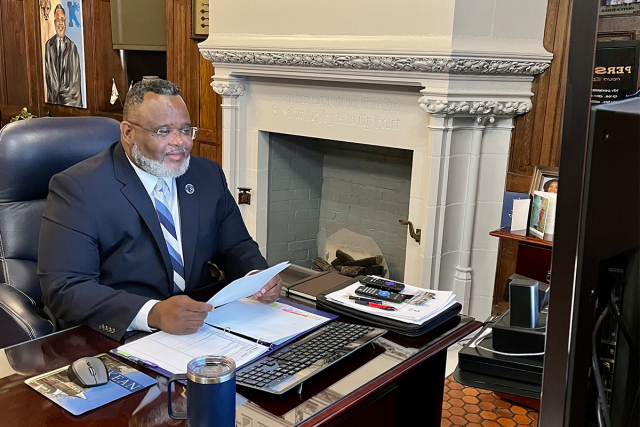 Kean University President Lamont O. Repollet, Ed.D., today testified virtually at a congressional briefing on the reauthorization of the federal Farm Bill, advocating for funding for agricultural-related educational programs and opportunities for Hispanic students.
Repollet addressed the MSI Agriculture Colleges and Universities Congressional Briefing on behalf of the Hispanic Association of Colleges and Universities, of which Kean is a member.
Kean is also a Minority Serving Institution (MSI) and a Hispanic-Serving Institution (HSI) that is designated among the country's 206 Hispanic-Serving Agricultural Colleges and Universities, also known as HSACUs.
"Federal support is absolutely essential to support HSACUs as we prepare students for careers that will expand the agriculture ecosystem and ensure a strong agricultural economy for generations to come," Repollet said. "Together, we are a powerful force and an important workforce development pipeline for the next generation of Hispanic leaders, innovators and changemakers to join the nation's agricultural workforce."
Nearly 35 percent of Kean's students are Hispanic, the University's fastest-growing demographic. 
"Only by preserving and expanding the work and opportunities that the Farm Bill was created to prioritize will we sow the fruits of our hardworking and deserving Hispanic labor force, preserve the well-being of our agriculture ecosystem and ensure the stability of our economy," Repollet said. "I, along with HACU, respectfully recommend that the U.S. Congress equitably strengthens the capacity of HSACUs to implement higher education programs that attract, retain and graduate students qualified to enter a competitive workforce."
In addition to being designated as an HSACU, Kean is also New Jersey's urban research university. Kean faculty and students conduct research that spans its dual role, such as research on hydroponic and aquaponic farming. Many Kean students are directly involved in environmental sustainability research in communities throughout the state.
"At Kean, like other HSACUs, we work to ensure that our students, many of whom are first-generation college students, are prepared to excel in public and private sector careers in agriculture and beyond through a strong curriculum, research program and internship opportunities," Repollet said.
"With HSACUs across many states, we're in tremendous company, but we need financial support to share what we've learned and ensure our graduates are well educated and prepared to meet the fast job growth in the technology, agricultural and other crucial sectors of our economy," he added.
Also testifying at the briefing were representatives of 1890s Institutions and Tribal Colleges and Universities, as well as Antonio Flores, Ph.D., president and CEO, Hispanic Association of Colleges and Universities.
Tagged