Kean Provost Named Summer Visiting Professor at MIT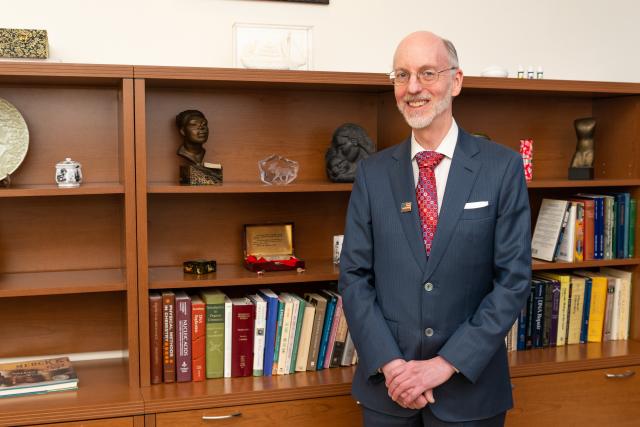 Kean Provost and Vice President for Academic Affairs Jeffrey H. Toney, Ph.D., has been named a visiting professor and scholar for the summer at the Massachusetts Institute of Technology (MIT), one of the top universities in the nation.
Toney will head to Cambridge, Mass. on July 1 to begin serving the appointment as visiting professor and scholar in linguistics and philosophy. He will give several invited lectures across MIT's School of Sciences and School of Humanities, Arts and Social Sciences about his interdisciplinary research spanning humanities, the sciences and the arts. He will also take part in seminars, reading groups and colloquia; and conduct research to develop a book on the late Thomas S. Kuhn, an influential philosopher and mentor with whom Toney studied as a post-doctoral student at MIT.
"I am thrilled and honored to be selected for this prestigious appointment," Toney said. "I am very grateful for President Farahi's support of this exciting, rare opportunity."
The appointment also represents an opportunity for Kean. While at MIT, Toney said he will work to establish networks with research groups and start-up companies facilitating opportunities for Kean students to pursue internships and research projects at both MIT and its neighbor, Harvard University.
"This appointment is a well-deserved honor for Dr. Toney and Kean University," President Dawood Farahi, Ph.D., said. "He has been a pioneer for undergraduate research here at Kean and this opportunity will no doubt open more doors for him and our students."
One Kean student already completed an internship at SurgiBox, an MIT laboratory initiative, and another student is going to the Institute as an intern this summer.
"This is an incredible opportunity for our students to experience not only MIT, but to learn about start-ups and entrepreneurship," Toney said. "During my time as a visiting professor and scholar at MIT, I will be working with a wide range of departments and programs, and actively seeking connections between our academic programs and their independent study opportunities and need for internships within their research groups. This is just the beginning."
In his lectures, Toney said he plans to speak on the link between the sciences and humanities, and on the importance of interdisciplinary problem solving. "Many of the most exciting and innovative discoveries are emerging from the intersection of different disciplines," he said. "Think of the iPhone, born from the integration of multimedia technology, materials science, design and the study of the human-computer interface."
Toney was sponsored for the appointment by Bradford Skow, Ph.D., Laurance S. Rockefeller Professor of Philosophy at MIT. Skow holds the endowed chair position formerly held by Kuhn. The provost said he also has the option to continue his work beyond the summer, into 2020.
Toney earned his Bachelor of Science degree at the University of Virginia, and his master's degree and Ph.D. at Northwestern University. He completed postdoctoral fellowships at Dana-Farber Cancer Institute (Harvard Medical School) and MIT.