Kean Receives New York Emmy Nomination for Film Collaboration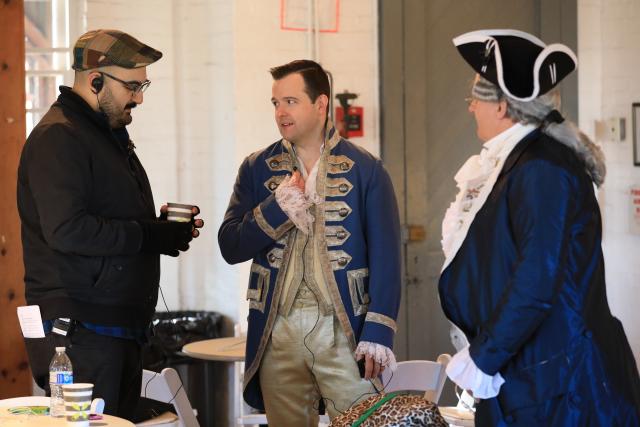 Liberty Hall 360: Revolutionary Wedding, a short film produced by students, faculty, alumni and staff at Kean University, has been nominated for an Emmy Award by the New York Chapter of The National Academy of Television Arts & Sciences.
The film and virtual reality production recreates the wedding of Founding Father John Jay to socialite Sarah Livingston in the historic home that is now Liberty Hall Museum, on the Kean campus.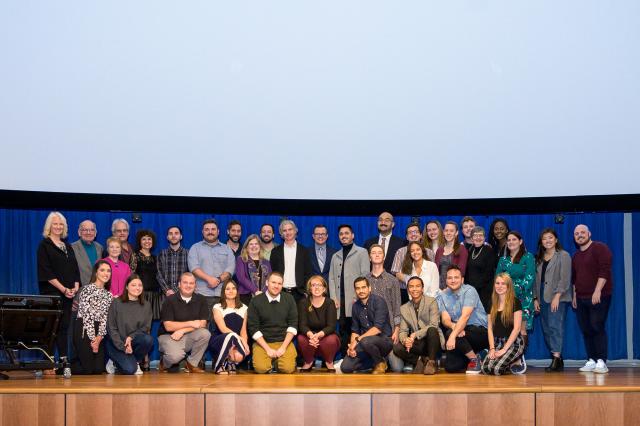 The New York chapter nominated the film in the category of Nostalgia Program, which celebrates "excellence in a program, series or special consisting of 'retro' or 'throwback' topics of a nostalgic or historical nature such as biographies, personal tributes or sociological retrospectives." 
Awards will be presented at the 63rd Annual New York Emmy ceremony in April. 
Project Lead/Co-director Ed Johnston, an assistant professor at Kean's Michael Graves College Robert Busch School of Design, and his students worked on the technical aspects of virtual reality.
"We are thrilled to bring the prestige of a New York Emmy nomination to Kean University," Johnston said. "I am excited to be taking strategic next steps in bringing this collaborative structure and immersive tech into our design curricula." 
Producer and Co-director Emmanuel Vozos, the director of digital media production in the Kean Office of University Relations, noted that the entire team created the film while juggling school work, professional obligations and the challenging new processes of virtual reality filmmaking.
"This nomination is a big step forward for our student-driven team and the many faculty and staff who supported them and contributed to this project," Vozos said. "Our team used new 360° VR technology to transport audiences and museum-goers back in time into a fully immersive environment. This is not just a movie - it's a time machine."
Filmed in the museum, Liberty Hall 360: Revolutionary Wedding was created through the collaboration of students, faculty, staff and alumni of Kean University across multiple disciplines such as graphic design, history, communication, writing and theatre.
Megan Tobias '19, who received a BFA from Kean in theatre performance and honors history, and who now works as literary and producing assistant at Premiere Stages, was part of the team who worked on the project. She called the news of the nomination "incredible.
"It's great to see this kind of response to historical entertainment, and accurate historical entertainment at that," she said. Tobias contributed research on Sarah Livingston, as well as 18th-century wedding ceremony traditions, wedding dresses and accessories. 
Set on the eve of the American Revolution, the film introduces a colorful cast of characters who lead viewers through the historical New Jersey mansion and grounds as they experience the story through the eyes of "Lucius," a rambunctious young wedding guest.
The project serves as a model of success for future interdisciplinary collaborations.
Liberty Hall 360: Revolutionary Wedding demonstrates the extraordinary creative outcomes that can come of creative interdisciplinary collaboration," said Elizabeth Hyde, Ph.D., chair of the Department of History. "The project allowed the history honors students, who wrote the script based on original historical research, to explore how serious history-telling can be done creatively."
This is the second time that a Kean University project has been nominated for a New York Emmy in the Nostalgia Program category. Faculty and staff members were nominated in 2015 for the short documentary series It Happened Here: New Jersey, which aired on NJTV.
The nomination is not the only New York Emmy nomination with links to Kean. Kean Alumnus Mike Rizzo '14, '16 M.A., a meteorologist for News 12 The Bronx and an adjunct professor in the Kean School of Communication, was also nominated in the category of Weather with his News 12 colleagues, and Talent: Anchor - Weather, a category which he won last year. 
Other nominees in the nostalgia category this year include work from regional broadcast leaders like MSG Network, WNBC-TV, Spectrum News NY1 and WNJU Telemundo 47. The winners of this year's NY Emmys will be announced at a ceremony in New York City on April 18, 2020.
Liberty Hall 360: Revolutionary Wedding can be seen on YouTube and at www.libertyhall360.com.