Kean Students Prepare for Cybersecurity Certification Exams in Free Summer Program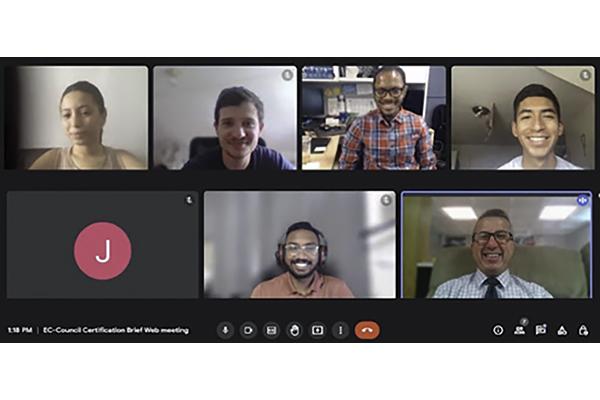 Fifteen Kean University students and recent graduates studied for cybersecurity certifications in a virtual pilot program offered free of charge through the University's Center for Cybersecurity this summer. 
Kean, a public university located in Union, New Jersey, is an Academia Partner with EC-Council, a global cybersecurity education and certification organization. EC-Council developed the "Essential Series" program to offer cybersecurity training materials and certifications for individuals who wish to start entry-level careers in cybersecurity.
The students from the computer science, information technology and criminal justice programs at Kean, enrolled this summer in three certification courses — Network Defense Essentials, Ethical Hacking Essentials and Digital Forensics Essentials.
"As a complement to a student's academic coursework at Kean, a technical certification can be a valuable addition in the job market," said Stan Mierzwa from the Kean Center for Cybersecurity. "Response from Kean students to the program was strong, and their willingness to take on extra coursework over the summer shows how dedicated they are to building their knowledge and skills in the cybersecurity field."
To launch the pilot program, the Center for Cybersecurity collaborated with Kean's Office of Transformational Learning and Office of Computer and Information Services to make the materials available online.
"This is a great example of how institutions can proactively engage students from multiple degrees and concentrations with cross-disciplinary cybersecurity skills that align to the standard work roles," said Wesley Alvarez, director of academics at EC-Council. "We see more interest to upskill students in these critical cybersecurity domains across finance, criminal justice, business and other fields. The Essentials Series offers Academia partners an opportunity to do this completely free."
Khanjan Patel, of Roselle Park, graduated this year from Kean with his master's degree in computational science and engineering after receiving his bachelor's degree from the University the year before. He said the flexibility of the online course appealed to him.
"The EC-Council's free cybersecurity training has helped me develop my knowledge in the fundamental concepts of Network Security. I can watch the course at my own pace and at a convenient time," he said. "I recommend this course to anyone who is a student or a professional who wants to get into cybersecurity as the field is growing exponentially." 
Yisel Domenech, of Bayonne, who graduated from Kean in May with a degree in Information Technology, said the program has given her an edge in a competitive job market.
"The certifications will definitely open the door to more job opportunities for recent graduates like myself," Domenech said.
At the end of the program, the students will be prepared to take certification exams. All students involved in the pilot program will be asked to evaluate it, and the survey results will be used to further develop the program.
Yolanda Sanchez, of Elizabeth, a Kean senior studying information technology/cybersecurity, said she is grateful for the free cybersecurity training.
"I can't wait to use the knowledge I gained in the near future!" she said.
Tagged