Kean Students Visit L.A. for Artist-in-Residence Internship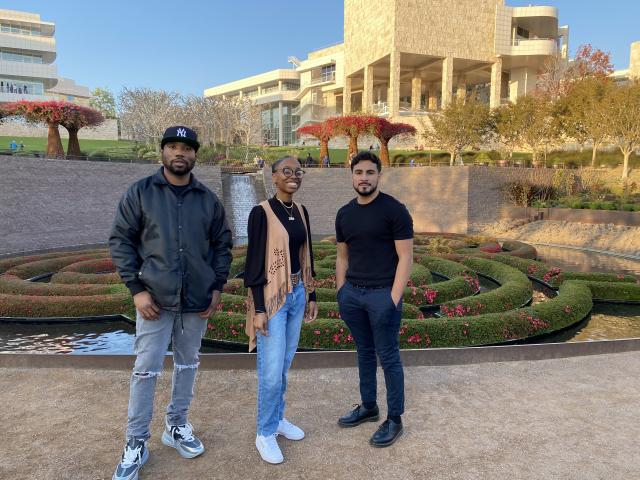 Two Kean students visited Los Angeles recently to meet with professional artists, explore art museums, and learn from visual artist Knowledge Bennett in his studio as part of Kean's new artist-in-residence internship.
Students Brandon Bravo, a senior studio arts major, and Nazira Goldware, a senior marketing major with a minor in theater, made the trip with Lynette Zimmerman, executive director of Liberty Hall Academic Center and the Galleries at Kean.
The artist-in-residence program, launched this fall, is the newest initiative at the Galleries at Kean. Bennett, an internationally recognized contemporary artist whose Pieces of a Man exhibition is displayed at Kean through December 17, is the University's first artist-in-residence.
"This program offers unprecedented opportunities for our Kean students," said Kean President Lamont O. Repollet, Ed.D. "Through this internship, Kean students learn from artists in their studios, gain understanding of entrepreneurial opportunities and possible career paths in the art field, and have the chance to network in the industry. This new program at Kean puts equity into action and makes the University stand apart."
During four days in Los Angeles, the students spent hours meeting with and learning from Bennett. They also attended a dinner with an art collector who is also a Los Angeles producer; accompanied Bennett to other industry meetings and dinners; and visited the Los Angeles County Museum of Art, the Getty Center and Museum, and more.
Bravo, who is from Metuchen, called the internship "life changing."
"This experience opened my mind so much, not only in the world of art, but in myself," he said. 
Goldware, who is from Trenton, summed up her experience with a quote from Maya Angelou: "Life is pure adventure, and the sooner we realize that, the quicker we will be able to treat life as art," she said.
Zimmerman said the program helps Kean students forge their own futures in art.
"Career pathways in the arts can be difficult to discover and navigate. Through this internship, Kean is providing students with network connections and field experience that allows them to see the opportunities and take advantage of them as they grow in their artistry," she said.
The second portion of the internship involves a student reaction art show, in which student artists will react to Bennett's exhibited work. Goldware and Bravo will curate the show, which is expected to open in February 2022 in the James Howe Gallery located in Vaughn Eames Hall. 
The show titled, Build Wide then Up | It means what you want it to mean, invites art submissions from all Kean students.
For more information about PIECES OF A MAN, visit galleries.kean.edu.
Tagged