Kean Theatre Alumni Play Crucial Roles in Premiere Stages' Production of 'Year One'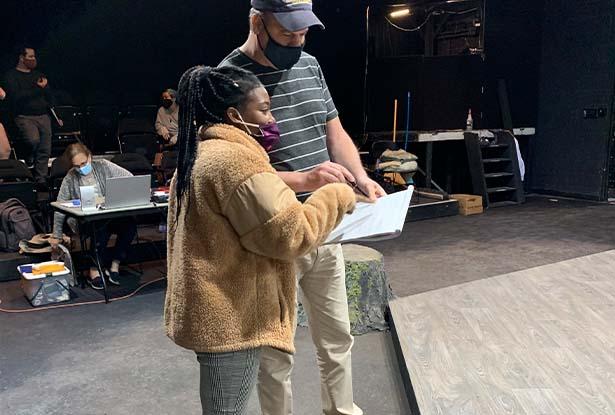 Premiere Stages at Kean has returned to live, indoor theatre with a critically acclaimed production of the new play Year One, supported by eight Kean theatre alumni who are serving as understudies and in backstage roles.
Through their work as actors, staff and crew, the Kean graduates are earning credits toward membership in Actors' Equity, the union that represents theatre actors and stage managers, as they pursue their professional careers. 
The play, written by Erik Gernand, tells the story of a German family facing the rise of the Nazi party. It is the first full-scale, indoor production staged by Premiere Stages since the start of the COVID-19 pandemic.
"It feels beautiful," said Megan Tobias, an understudy in the show who graduated from Kean in 2019 with a BFA in theatre performance and a B.A. in honors history, and now works part time for Premiere Stages. "Something was really missing in the pandemic. There's nothing like being in a space when everyone's just creating together."
Joseph Gottfried, also a Year One understudy and a May 2021 graduate of Kean with a BFA in theatre performance, described the play as a microcosm of a country during a time of rising fascism.
"It centers around the first year that Hitler came to power," he said, "but instead of focusing on the whole nation and events, it tightens in on just one family and how this event and this person corrupts and twists the minds of normal people."
Tobias is understudying the role of Claudia, the most right-wing character.
"She's so dynamic, because she is not inherently evil," Tobias says of Claudia. "I think that's the best part of Erik's roles, is that everyone is so human."
Fellow alumna Roe Manzo, who graduated in May 2020 with a BFA in theatre performance, is serving as assistant stage manager, which makes her responsible for everything that happens backstage, including keeping track of props and sharing the stage manager's messages with the actors.
An unusual task for Manzo was learning how to use food coloring to make water look like alcohol and tea for scenes onstage.
"There was a lot of trial and error in the process of making the right colors and then testing them under the show lights to make sure that they actually read as that specific drink," she said.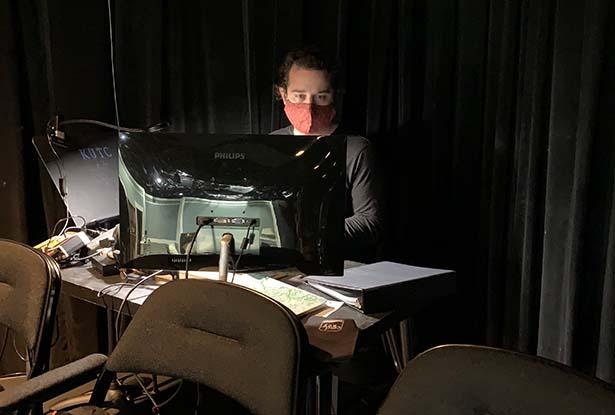 Alumni participating in the show also include sound designer Greg Scalera, who earned a B.A. in theatre in May 2011; lightning designer Zack Gage, who graduated in 2014 with a bachelor's degree in theatre/design technology; house manager Dustin Ballard, who graduated summa cum laude in May 2009 with a BFA in theatre performance; artistic and literary intern Latisa Harriott, who graduated magna cum laude in 2021 with a B.A. in theatre and a minor in dance; and backstage crew member Morgan Hope, a candidate for a BFA in theatre performance.
All the graduates "are doing an outstanding job, and the production truly would not be as special without their efforts," said John J. Wooten, producing artistic director of Premiere Stages and director of Year One. "I couldn't think of a better team with which to return to indoor theatre after a two-year hiatus."
Year One runs through September 26 at Kean's Bauer Boucher Theatre Center. It will be performed on September 23 and 24 at 8 p.m.; September 25 at 3 p.m. and 8 p.m.; and September 26 at 3 p.m. In addition, Tobias and Gottfried will perform highlights from the play in a free showcase set for 5 p.m. September 24.
Purchase tickets online at premierestagesatkean.com, or by calling (908) 737-7469 or emailing ticket@kean.edu. Alumni and other members of the Kean community will receive a 50% discount on tickets to all except the Sunday show if they use the code KUCOUGAR*. Masking is required for audience members.
Tagged