Kean Theatre Student and Alumna Receive Bauer Boucher Playwriting Awards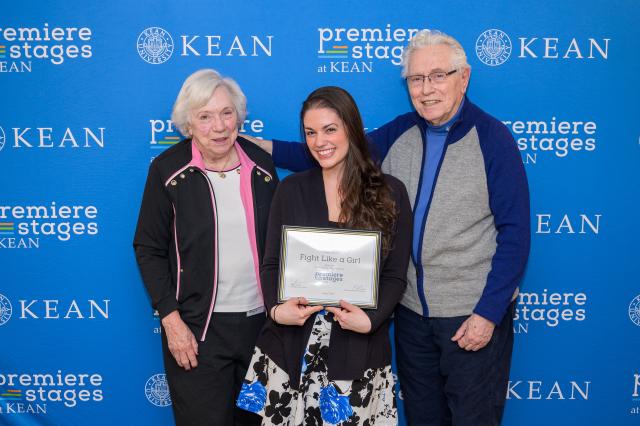 The professional theatre company in residence at Kean University, Premiere Stages, has honored a budding student playwright and an emerging alumna playwright with the Bauer Boucher Award.
The award was expanded to recognize two honorees this year through a major five-year sustaining gift from longtime Premiere Stages donors W. John Bauer and Nancy Boucher. In addition to a cash prize, the winners received a public reading of their play performed by professional equity actors, followed by a Q&A session with the playwright, audience, and the producing artistic director of Premiere Stages, John J. Wooten, who directed both readings.
The 2020 student winner is Emily Niemeyer, a senior from Milford, who is pursuing a dual degree in theatre and music. She received a $1,000 award for her play Appointment at Three. Based on a true story, it explores two families from different backgrounds brought together by their fight against cancer. Emily describes the play as a "story about family, hardship and the shared humanity that helps us persevere." The play received a professional reading by Premiere Stages at Kean University on January 21.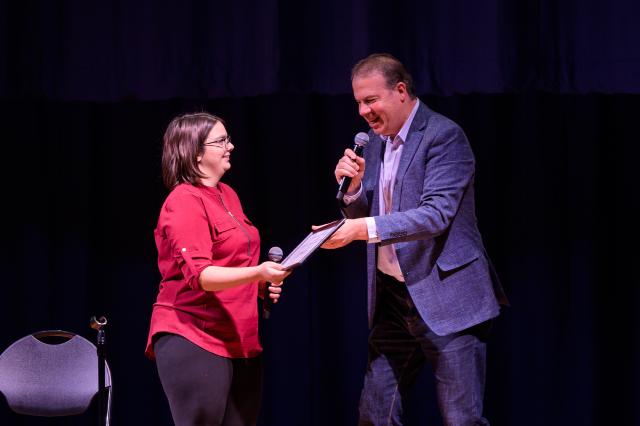 Niemeyer, who said she was shocked and thrilled to be selected, has acted and worked behind the scenes with such theatre companies as The Theatre Project, Dragonfly Multicultural Arts Center, Country Gate Playhouse and Oldwick Community Players, as well as the Kean University Theatre Conservatory. She began Appointment at Three as a class project, inspired by her own experiences following her mother's death from ovarian cancer. She plans to go to graduate school for classical voice, while staying involved with theater.
"It was amazing seeing the play brought to life," she said. "The actresses who were cast were incredible, and they really made the experience special." 
Emily Conklin '15 received a $2,000 alumni award and a professional reading of her play Fight Like a Girl by Premiere Stages on January 23 at Lantern Hill in New Providence. Based on the life of Julie d'Aubigny, the play explores the adventures of the 17th century female sword fighter as she struggles with love, loss and finding her place in the world. Fight Like a Girl asks: how do we make our lives worth remembering?
"Winning the Bauer- Boucher Award means a great deal to me and came at just the right time in my life. I had recently moved to New York City and had poured most of my energy since moving into this latest draft of Fight Like a Girl. Living paycheck to paycheck, I was not sure if I had made the right decision in moving," Conklin said. "Knowing an audience would get to hear the words I had spent months trying to articulate gave me so much encouragement and validation."
Conklin also wrote Onyx Falling, which received the Bauer-Boucher Award in 2016; Flash, Float, Fall, which premiered at the New Jersey Fringe Festival and was performed at Kean University; and Walking on Glass, which premiered at Reading Theatre Project's Fairy Tale Fringe Festival. She received a BFA in Theatre Performance from Kean and studied at the Moscow Art Theatre.
"We are so pleased to be able to offer two awards in 2020," Wooten said. "For the writers, it takes it to a whole other level when a play goes from page to the stage." 
Winning plays are selected by a panel of theatre professionals that reads and evaluates submissions.
Wooten thanked Bauer and Boucher for their continued support. "John and Nancy's incredible generosity affords Kean-affiliated dramatists enhanced visibility, dramaturgical feedback, access to professional artists and financial recognition of their plays," he said. "It is extremely rewarding to see the work of these talented writers come to life."