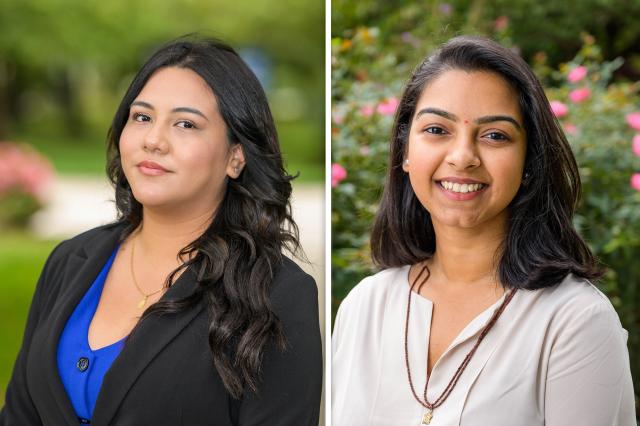 Two Kean University marketing majors were named among the top marketing students in the country as Marketing EDGE Collegiate Summit Scholars.
Jessie Coronel of Clifton and Dhruva Patel of South Brunswick,  both seniors, were recognized for their academic work and passion for marketing. Marketing EDGE, a non-profit organization dedicated to marketing education, chose 70 students from across the country to attend a two-day summit, where the students were able to meet and network with marketing professionals, attend workshops and more.
"These are great opportunities for our marketing students in the College of Business and Public Management," said Kayla Santos, managing assistant director of the college's School of Management and Marketing. "Our students are always looking for opportunities to research and network, to help them learn and grow as professionals and scholars."
Both students also received other top recognition in marketing, providing them the opportunity to present at industry conferences, meet other student leaders, and dive into in their future field.
Coronel was named an Undergraduate Diversity Scholar by ARNOVA -- the Association for Research on Non-profit Organizations and Voluntary Action. She will attend the group's conference in San Diego at the end of November, where she will present research and attend diversity scholar workshops. 
Coronel, who hopes to become a digital marketing manager, said she was humbled by the opportunity. "I believe it would have never happened without being part of the undergraduate research program, 'Research Recruit,' here at Kean," she said. 
Working under the guidance of marketing assistant professor Minchung Han, Ph.D., Coronel researched and presented her study, Discussion of Consumers' Body Satisfaction: Focused on Purchasing Decision and Service Satisfaction at Kean University's Research Days 2019. The study was also published in an academic journal.
Patel, meanwhile, was one of 1,000 students across the country named a Forbes Under 30 Scholar. She attended a four-day Forbes Under 30 Summit, which included a mix of learning and networking. Attendees came from across the country, from different industries and diverse backgrounds, for speakers and workshops on the future of business and entrepreneurship. 
On the last day of the event, Forbes Under 30 Summit attendees gave back to the community of Detroit by coaching students at The Boys & Girls Club of America. 
"I had an amazing opportunity to expand my network, skills, and knowledge," Patel said. "The greatest part of the experience was the ability to learn and network with other scholars and professionals."
Patel is also a programming content specialist for the American Marketing Association of New Jersey and is responsible for finding speakers and developing content for special events. After graduation, her goal is to work in the market research industry, where she can help corporations better understand their audiences.
Tagged