New Kean Students Take Bridge to the Future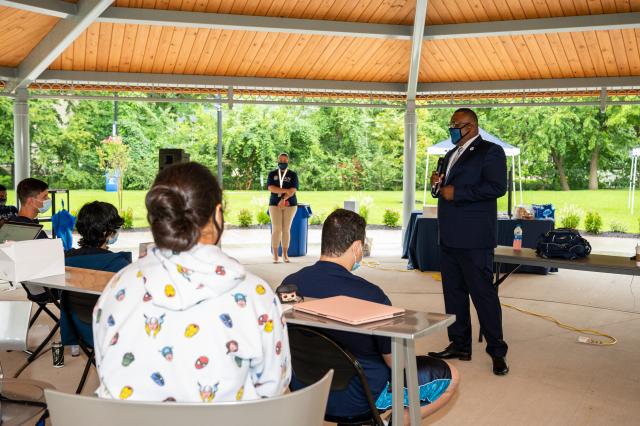 A group of incoming Kean freshmen took their first steps toward college success recently in Kean's new Learning Plaza outdoor classroom.
The students were among the first to participate in Bridge to Success, a new program designed to help incoming students in Kean's Exceptional Educational Opportunities and PASSPORT programs transition to college and gain the skills they need to graduate.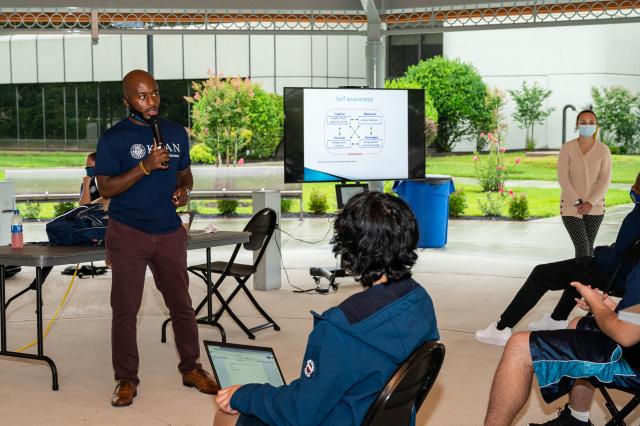 "This is really outstanding. We're in an outside environment, and we're social distancing. We're learning a lot of things, from time management to how to work with peers," said Manny Cardenas, a criminal justice major from Newark, and one of 21 freshmen in the program. "I'm really getting used to college life."
Bridge to Success is an accelerated version of Transition to Kean, a course that all freshmen take to learn about the University and the resources offered. The students spent one week in on-campus classes in August, followed by a week of remote learning. Another Bridge to Success group attended sessions in July, in remote-only format.
Neva Lozada, Ed.D., director of institutional effectiveness for Kean's Office of Student Success and Retention, said the Bridge to Success students learn to navigate the campus, attend academic skills workshops, take part in team-building seminars, work with online learning platforms such as Blackboard, and gain information about the various support services and resources Kean provides. The recent group also had the opportunity to meet Kean President Lamont O. Repollet, Ed.D., who stopped by to speak to the students.
"The goal is to ensure they will be successful in their transition to college and in their journey toward timely graduation," Lozada said. 
The students also got to try out residence hall living. And since Kean's campus was physically closed in March, requiring the University to hold the spring and summer's accepted student days and orientation virtually, for many Bridge to Success students it was their first visit to campus.
Ashanti Enos, an early childhood education major from Irvington, had not been to campus previously and had never been in a residence hall. She said Kean is "really beautiful."
"It's so nice. It's big at first, but now that I'm more acclimated, I know how to get around," she said. "I'm looking forward to starting classes, I just want to begin the process. I'm really excited about my major and learning things."
Cardenas said the Bridge to Success week was his first visit to campus, too.
"I was shocked at how beautiful it is. There are flowers everywhere. The buildings are beautiful," he said. "This is really life-changing."
Tagged