Professor Jennifer Crupi's Work featured in Vicenze Jewelry Museum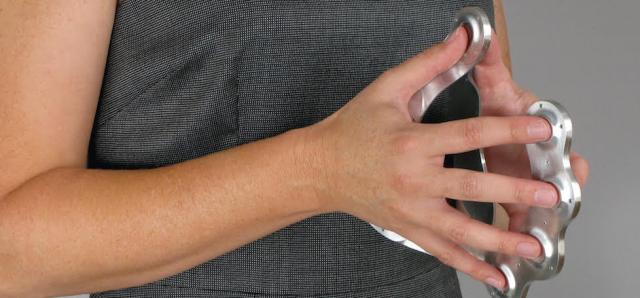 Kean University professor Jennifer Crupi's work Power Gesture is part of a new exhibit currently on display in the Jewelry Museum of Vicenza Italy. 400 pieces of jewelry from various time periods and parts of the world chosen by 9 international curators comprise the exhibit. The museum, housed in the historic sixteenth century Basilica Palladiana, is one of the few facilities in the world and the only one in Italy completely dedicated to the art of jewelry.
"I am honored to have my work recognized on the world stage through this exhibition at the Jewelry Museum of Vicenza. It is important to me that my work reach new audiences, and for it to be on view for two years abroad, among jewelry that dates back as far as the 6th century B.C as well as iconic names such as Calder and Tiffany and Co., is a real privilege," said Crupi.
Power Gesture is an implement that requires the user to assume the authoritative "steepled fingers" gesture. Presidents, world leaders and CEOs often adopt this position in their speeches and when addressing those they lead. Psychologists believe assuming a posture or gesture will make one feel as they would if they did the gesture naturally.
Crupi's work addresses the ways we communicate with each other visually, through body language. Handcrafted of sterling silver or aluminum, her one of a kind jewelry and interactive objects become instruments for gestural behavior.
An exhibiting artist for over 20 years, Crupi's work has been featured in numerous publications including Metalsmith Magazine and Vogue Italia. Her metalwork is included in the permanent collections of the Smithsonian American Art Museum in Washington, D.C., the Museum of Contemporary Craft, in Oregon; and the Samuel Dorskey Museum of Art, N.Y.