Senator Cory Booker Hosts Juvenile Justice Reform Roundtable at Kean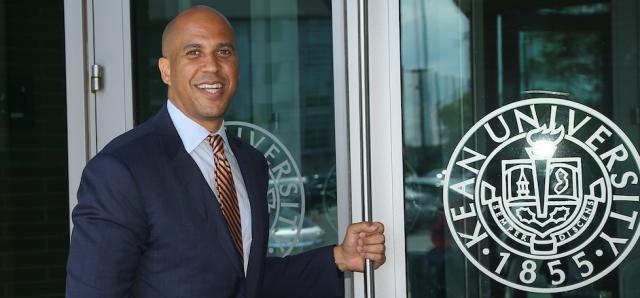 U.S. Senator Cory Booker held a juvenile justice reform roundtable at Kean University's William Loehning Conference Center in the Green Lane Academic Building as part of his recent 21-county #JerseyRoadTrip in which he visited each of New Jersey's counties to highlight his legislative priorities. At Kean, prison and juvenile justice reform activists, child and family advocates, legislative leaders and formerly incarcerated youth joined Booker for a frank discussion of ways to move the system from punitive to rehabilitative.
"New Jersey is a leader in juvenile justice reform, but more needs to be done," said Booker. "I want to advance the reform cause in states around the country that are decades behind. There is a sense of urgency about this issue that drives me every day in my work in Washington."
The reform measures discussed include improving education for incarcerated minors, closing loopholes that allow juveniles to be tried as adults, addressing racial inequities in the system, increasing support services in juvenile detention centers and replacing large facilities with smaller, community-based facilities that focus on rehabilitation.
"When someone goes to jail, more than just an individual is affected. Prison affects a person's family and neighborhood as well," said New Jersey State Senator Raymond Lesniak, a roundtable participant and leading proponent of criminal justice reform in the state. "Communities are made safer when juvenile offenders are put on a more productive path in life."
Kean University Board of Trustees Chair Ada Morell welcomed the participants, noting that the University has a proud tradition of championing human rights issues. Last April, close to 1,000 people attended the Human Rights Institute Conference on prison reform, Locked Up in America, the Business of Incarceration.
"On the issue of prison reform and juvenile justice reform, Kean has been and will continue to be an agent for change. Let us know what we can do to help," she said.
Tagged