Students Gain Experience Through Virtual Internships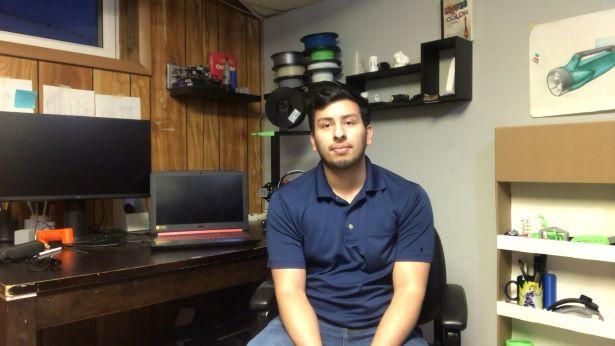 Six Kean University students and recent graduates are building career experience remotely this summer through virtual internships in the fields of industrial design, historic preservation and education.
Several of the students are working at projects started by the Massachusetts Institute of Technology. Biology majors Jemima Morinvil and Laissa Moïse are interning at the MIT Haiti Initiative, helping to create educational materials for students in Haiti. Industrial design graduate Carlos Carrillo '20 and junior Pablo Galao Birkmann are interning with SurgiBox as part of a team working to develop portable surgical operating rooms. 
Two additional students, recent Kean graphic design graduates, Jacqueline O'Connor '20 and Sara Passafiume '20, are interning virtually with the Nantucket Historical Association, assisting with immersive simulations of a whale rescue and a historic view of Nantucket Harbor. 
"It's amazing, fun and educational," Morinvil said. She and Moïse, who are of Haitian descent and write and speak Creole fluently, are editing, formatting and preparing educational materials for publication. 
They are the first two virtual interns with the MIT Haiti Initiative, according to Paul Belony, Ph.D., a lecturer in physics at Kean and liaison to the project. He said it is designed to promote learning in the STEM fields in Haiti's native language, Haitian Creole.
"I see in these students two leaders who will go far and beyond," Belony said. "This will open the door for more Kean students."
At SurgiBox, Carrillo said he is gaining understanding of the world of medical design. "Many things come into consideration when designing a product that could potentially change the world of health care. There are tons of trials and paperwork to be done before the product goes into production," he said. "There is no room for error in this industry, which is something that I like." 
During the initial weeks of his internship, Carrillo was able to work on illustrations of how the product works.
"I got excellent feedback from Dr. Debbie Teodorescu, Surgibox founder and president of the board, which made me proud of my work. It motivates me to keep improving," Carrillo added.
With the Nantucket Historical Association internships, the students are working virtually on two important projects, according to Kean Associate Professor Ed Johnston, coordinator of Kean's graphic design program. The first project is a Whale Rescue Immersive Experience, a 360-degree immersive simulation of a rescue team disentangling a right whale from refuse and netting in the ocean. The second is the Nantucket Harbor Visualization, an immersive visualization of what the island harbor looked like in the early 1900s. 
The NHA interns' experiences this summer will help shape graphic design projects for students in the upcoming academic year, Johnston said. Two student researchers working with him as part of a Students Partnering with Faculty Award have learned from the interns. Through the NHA, they connected with specialists at the Center for Coastal Studies in Provincetown, Massachusetts on other projects which will extend into the classroom in the Fall semester, such as how to deploy virtual reality content to YouTube.
"These internships are truly extraordinary," said Associate Dean of Michael Graves College Rose Gonnella. "Each student is engaged in professional-level and meaningful work." 
Gonnella thanked Kean University Provost and Vice President for Research and Faculty Jeffrey H. Toney, Ph.D. "These internships became possible due to Dr. Toney being the leader he is in making connections in the establishments of these extraordinary research opportunities for our students," she said.