Whimsical Artwork with a Dark Haunt Come to Galleries at Kean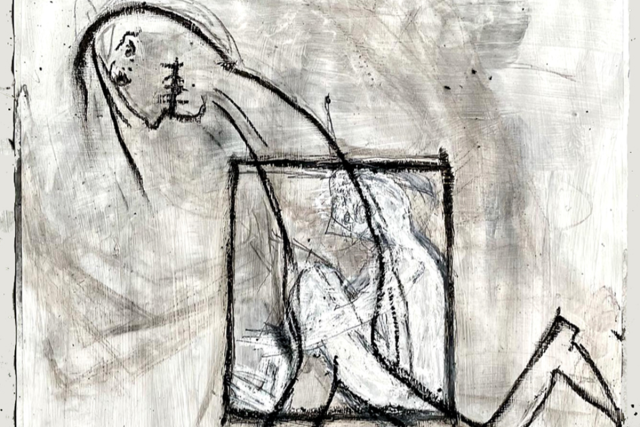 HouseBroken, an exhibition by New York-based interdisciplinary artist Melissa Stern that explores the range of emotions and experiences during the COVID-19 lockdown, is on display at the Galleries at Kean University through Friday, December 8.
An opening reception – free and open to the public – will be held in the Nancy Dryfoos Gallery located in the Learning Commons on Kean's Union campus, Tuesday, September 26 at 5 p.m.
The exhibition is a loose documentation of the pandemic years and a visual musing about the nature of "home." The emotionally resonant yet playful sculptures and works on paper were created using a wide range of mixed materials. Stern expertly channels her experiences and emotions into her work allowing the viewer to relate and remember a shared experience.
"When the world shut down, during the early days of the COVID-19 pandemic, everyone was sent 'home.' While I understood the logic, I knew not everyone had a safe place to stay, and for many, the roof over their head became a prison," said Stern. "My work at that time became fixated on this weird dichotomy of home as sanctuary and prison. It affected everyone differently, and it changed us as a society."
Lynette A. Zimmerman, Ed.D., executive director of the Liberty Hall Academic Center and the Galleries at Kean, said the exhibition "opens the door into this absurd world in which we exist."
"The playful authenticity of Stern's work on a traumatic subject is refreshing. She invites us into her quirky, slightly dark world as she documents that time period through her work," Zimmerman said. "The exhibition aligns with the Galleries at Kean's artistic theme this year, Art and Wellness, with its exploration of life during COVID."
HouseBroken is on view at the Nancy Dryfoos Gallery on Kean University's main campus, 1000 Morris Avenue, Union, New Jersey, Monday-Friday, 10 a.m.-4 p.m. through December 8, 2023. Visit galleries.kean.edu for more information.
Tagged