CAHSI is a networked community of students, faculty, administrators and other professionals committed to accelerating the achievements of Hispanics in computing.  CAHSI is a national NSF INCLUDES Alliance that spans across the U.S. and Puerto Rico. 
About Us
The Computing Alliance of Hispanic-Serving Institutions (CAHSI) was formed in 2004 as a grassroots effort to increase the number of Hispanic students who pursue and complete baccalaureate and advanced degrees in computing fields. Recognizing the contributions and importance of 2-year colleges, CAHSI has now formalized the inclusion of 2-year colleges in its 20-30 vision. The Alliance is continually informed and enhanced through social science research and reflection of proven and promising practices.
The core purpose of CAHSI is to create a unified voice in an effort to consolidate the strengths, resources, and concerns of CAHSI institutions that are committed to increase the number of Hispanics who pursue and obtain quality credentials in computing areas.
CAHSI's Vision
By 2030, Hispanics will represent 20% or more of those who earn credentials in computing. CAHSI's mission is to grow and sustain a networked community committed to recruiting, retaining, and accelerating the progress of Hispanics in computing.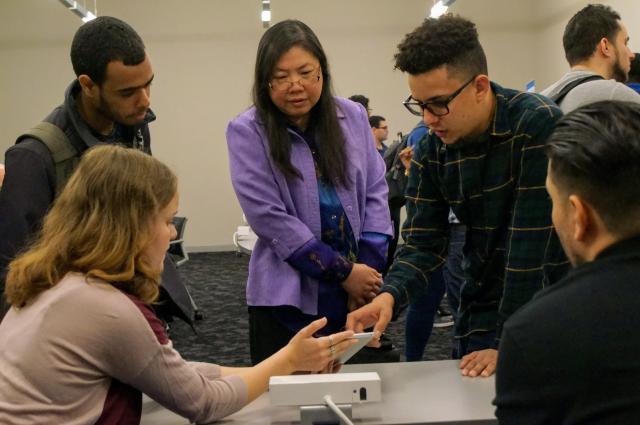 We Believe in preparing Hispanic students with the technical qualifications and real-world experiences to shape the future of computing. 

We Believe in growing a geographically dispersed network of partners to achieve lasting results. 

We Believe inclusiveness must accompany diversity 
To learn more about the benefits of becoming a part of CAHSI-North Region, click here. 
What We Do
Disseminate effective teaching & learning practices
Enhance curriculum to meet national needs
Promote extra & co-curricular student experiences
Prepare future leaders in computing
 CAHSI Signature Practices
Affinity Research Model 
Fellow-Net
Peer-Led Team Learning 
Problem-Solving Courses
Student Scholar Leadership Program 
Connect with Us
CAHSI supports student success by promoting:
Mentorships, Scholarships, Internships, and Fellowships
Technical and Professional Development Workshops
Academic and Professional Networks
Access to the annual HENAAC Conference and Activities
To learn more information about CAHSI, click here.
To connect with CAHSI at Kean and learn more about our efforts in New Jersey reach out to Nancy Amador - North Region Connector, namador@kean.edu.