Accessing Your Path
If you are participating in any paths, you will see a link to your paths on your homepage when you first log in to your Engage site.

You can also access your paths progress by clicking on your User Drawer and selecting Paths.

How To Report Experiences
In order to receive fulfillment credit for certain path items, you may need to report the experience. Experiences allow you to track path item completion and out-of-the-classroom activities, such as awards, conferences, study abroad, internships, or other involvement outside of Kean University.
Experiences let you showcase these additional activities on your co-curricular transcript or co-curricular path to share with future employers, graduate schools, for scholarship applications, or for any other reason, you might want to share your involvement.
To submit an experience request, access your User Menu by clicking your initial or photo in the top right corner of your screen. Click Experiences. (Note: Cougar Link is a mobile-friendly site so experiences can be completed via mobile device or tablet.)

You will see a list of your experiences if you have any created. Click Add Experience and select the type of experience you will be submitting.
Select the experience you want to report. The reportable experiences for The Cougar Climb are as follows:
Attended an Event/Program/Performance
Document Upload
Meeting with Advisor/Peer Mentor/Involvement Specialist
Participate in/Host an event on campus
Service hours
Visited location

Fill out the experience form with all of the requested information and attach any files needed (ex: picture, resume, etc.). Be sure to be detailed so that those approving your request have all the information they need.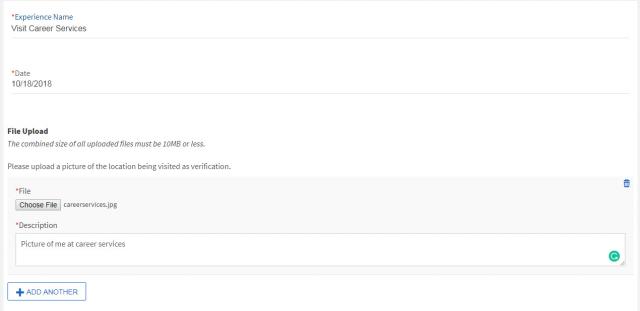 Before submitting, each experience must be attached to a path item in order to receive credit. Make sure to select The Cougar Climb and select the item you wish to fulfill.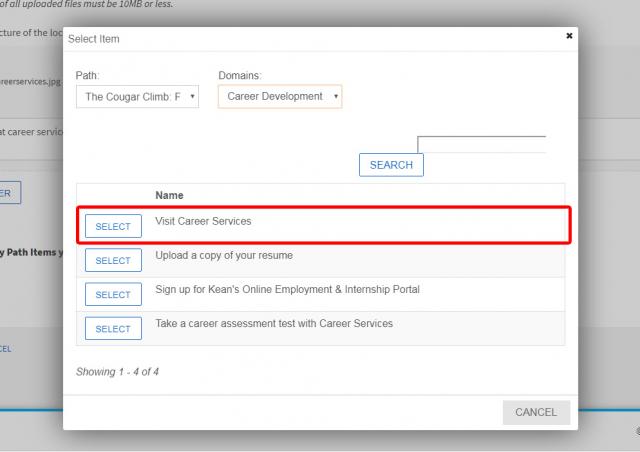 Click Submit at the bottom of the form.