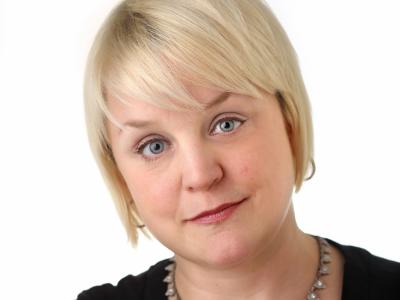 Biography
Assistant Professor Rachel Evans is Theatre Education Coordinator at Kean University where she mentors the students wanting to combine programs in the College of Education and the Theatre Conservatory.  She started teaching at Kean on September 1, 2004-- the same day that the State of New Jersey authorized a stand-alone K-12 Theatre certification.  Now, Kean University is the only undergraduate B.A. in Theatre with Theatre Certification in the state. 
Professor Evans has served as Vice-President of the Educational Theatre Association and as Chair of the Theatre Writing Team for the 2014 National Core Arts Standards.  She received TYA/USA's Ann Shaw Fellowship that allowed her to travel to Australia to study international Theatre for Young Audiences, one of her areas of expertise.  She's presented workshops in Sweden, France, and Canada and around the country at state Thespian Festivals, as well as at the International Thespian Festival.  She regularly publishes Theatre Reviews in Theatre Journal, and writes test items for the Theatre Praxis Exam.  In 2012, she received the NJ Governor's Award in Arts Education for Distinguished Service to Theatre Education.
At Kean, Professor Evans regularly directs the Kean Players on Tour, taking productions from the Theatre Conservatory into local schools.  Such productions have included Comedy of (Jersey) Errors, Ring-a-Ding-Ding, And Then They Came for Me: Remembering the World of Anne Frank, and Still Life with Iris.  The recipient of six Students Partnering with Faculty grants, Professor Evans has collaborated with Kean students to develop several original plays for young audiences, including Breathe In, Speak Out: Everyone Counts! and Day by Day: August Wilson's Legacy.  She was the 2019 recipient of Kean's Presidential Excellence Award for Distinguished Service.
Away from Kean, Professor Evans serves as a costume designer for Mason Gross School of the Arts, Department of Dance at Rutgers University.  She likes to Zentangle in her free time, living in New Brunswick with her husband and cats.
Courses Taught
THE 4220 - Topics in Theatre Education (Capstone)
THE 3240 - Theatre for Young Audiences
THE 3220 - Methods of Teaching Secondary School Theatre
THE 3200 - Creative Drama
THE 1100 - Acting I
EMSE 4711 - Clinical Practice I
EMSE 4811 - Clinical Practice II
ID 2701 - Plays: On the Page & Stage
Selected Publications
Evans, Rachel. "Company." Theatre Journal, vol. 71, no. 4, Dec. 2019, pp. 510–512. 
Evans, Rachel. "Hamlet and Saint Joan." Theatre Journal, vol. 70, no. 1, Mar. 2018, pp. 92–94. 
Evans, Rachel. "Little House on the Prairie." Theatre Journal, vol. 62, no. 2, May 2010, pp. 296–298. 
Evans, Rachel. "Measure for Measure." Theatre Journal, vol. 66, no. 4, Dec. 2014, pp. 608–611. 
Evans, Rachel. "Rabbit Hole." Theatre Journal, vol. 59, no. 1, Mar. 2007, pp. 134–135.