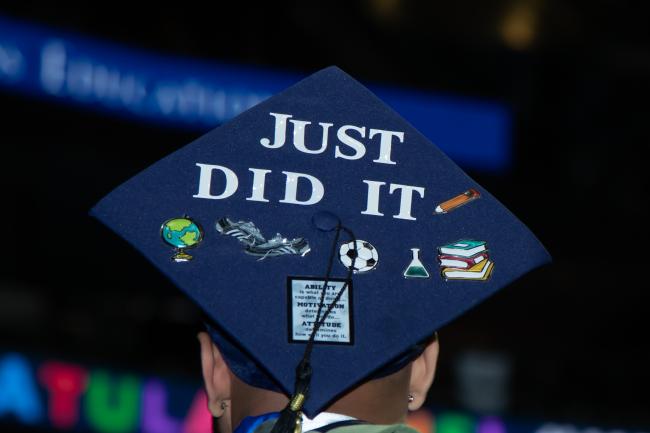 In-Person Commencement Ceremonies for Class of 2020
College of Business and Public Management Commencement  (8:30 a.m., Monday, July 27)
College of Business and Public Management Commencement (11:30 a.m., Monday, July 27)
College of Liberal Arts Commencement  (8:30 a.m., Tuesday, July 28)
College of Liberal Arts Commencement  (11:30 a.m., Tuesday, July 28)
College of Science, Mathematics and Technology and Michael Graves College (8:30 a.m., Wednesday, July 29)
College of Education and NJCSTM Commencement (11:30 a.m., Wednesday, July 29)
Nathan Weiss Graduate College Commencement (8:30 a.m., Thursday, July 30) 
Kean University will host a series of in-person commencement ceremonies on its Union campus in July to celebrate the tremendous accomplishments of the Class of 2020 amid the global COVID-19 pandemic.
The ceremonies, which will run throughout the week of July 27 at Alumni Stadium, will give Kean graduates the chance to cross the stage and be recognized in front of family and friends.
Lamont O. Repollet, Ed.D., will address graduates for the first time since becoming president of the University on July 1.
Confirming Attendance
Graduates who registered to attend in-person ceremonies are receiving the dates and times of their ceremonies by email. Each graduate is invited to bring up to two guests.
Graduates must log in to the Marching Order website to confirm registration and provide names and contact information for guests by Friday, July 24. Graduates can also indicate whether they or their guests require special accommodations, including accessible seating and parking. Anyone who does not confirm attendance will not be permitted to enter the stadium.
After graduates complete their registration, they will be emailed e-tickets for guests to gain entrance to the stadium. The tickets can be scanned on paper or a mobile device. Guests must have e-tickets to enter the stadium.
Graduates will also receive a digital "Graduate Pass" with a specific number that will determine their place in the lineup and their seat on the field during the ceremony. Graduates should bring the number with them and not exchange them with other graduates.
Graduates and guests are strongly encouraged to monitor their own health between now and the assigned ceremony. Anyone who is experiencing symptoms of COVID-19, including fever, cough or shortness of breath, is NOT allowed to attend the ceremony under any circumstances. Likewise, anyone required to quarantine under the state's travel advisory or because they had close contact with someone confirmed to have COVID-19 is NOT allowed to attend the ceremony under any circumstances. 
The ceremony will be live streamed on kean.edu/commencement for those who are unable to attend.
Arrival
Graduates should arrive on campus, already dressed in their gowns, one hour before the ceremony begins via the Green Lane entrance next to Alumni Stadium. Graduates are strongly encouraged to arrive in the same vehicle as their guests to reduce congestion.
Graduates and guests must wear face coverings from the time they arrive on campus until they leave. Anyone without a mask will be denied entry. 
University staff will be taking the temperature of graduates and guests while they are seated in their vehicles upon arrival. If anyone in the vehicle has a temperature over 100.4, everyone in the vehicle will be denied entry. Graduates should wait to put on cap until after a temperature is taken to avoid inflating the temperature reading.
Vehicles will be directed to the Kean Hall parking lot. Everyone should remain inside the vehicle until directed to the stadium. Gates will open 45 minutes before the ceremony is set to begin. No one is allowed to congregate at the entrance to the stadium or elsewhere on campus.
Graduates will line up outside of the stadium while guests are seated. Graduates are required to maintain social distancing from your fellow graduates while in line. 
Please note that guests who arrive together will be seated in pairs at least six feet from other guests unless otherwise requested. Anyone who arrives alone or requests to be seated alone will be seated individually at least six feet from other guests. 
The Ceremony
Graduates will process onto the field while keeping distance from one another and sit in assigned chairs, which have been placed an appropriate distance apart and will be sanitized between ceremonies.
After remarks from academic leaders, graduates will each get the chance to hear their name called, cross the stage and pose for a picture. Graduates may bring their diploma covers for the picture but should not share it with others for safety reasons.
Graduates who wish to remove their face mask while crossing the stage and posing for their photo may do so as long as they put it back on immediately after exiting the stage and returning to their seat. The University will arrange the stage to maintain social distancing.
Be prepared for high temperatures. The ceremony is expected to last one hour. Graduates and guests are strongly encouraged to dress for the weather and bring their own water bottles. No other outside food or beverages are permitted and no food or beverages will be sold at the ceremony. Wear appropriate footwear for walking on the football field.
The ceremony will take place rain or shine. Guests are encouraged to bring small umbrellas for sun/rain and ponchos as needed. 
In the event of lightning or other severe weather, the ceremony will be rescheduled later during the same week. Graduates will be notified via email. 
No large bags are permitted in the stadium and re-entry is not permitted. Graduates and guests are asked to remain for the duration of the ceremony so that ushers can dismiss everyone in an orderly fashion with social distancing.
Graduates and guests are asked to return directly to their cars to exit the campus after the ceremony is over. 
Please know that Kean University is working diligently to create a safe and celebratory experience for our graduates to recognize their amazing achievements. Together we will ensure it is a great day. 
*Don't forget to confirm your registration to obtain your e-tickets and graduation pass.
If you have any questions, email commencement@kean.edu. 
Virtual Commencement
Kean's virtual Commencement 2020 celebration from May 29, 2020 is still available on Stageclip or by viewing the content below.