2022 Honors Convocation
Honors Convocation will be held on Friday, May 6 at 2 p.m. in Kean's Harwood Arena and via live stream. Join us in recognizing our honors graduates and their notable achievements in academics, research and service.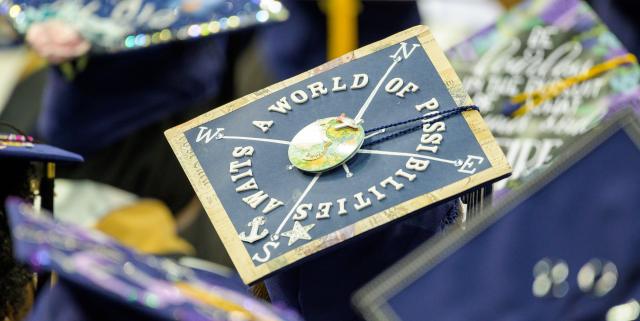 Message from Provost and Senior Vice President for Academic Affairs, David S. Birdsell, Ph.D.
Dear Honors Graduates, Family and Friends,
I am delighted to invite you to Harwood Arena on Friday, May 6, where will we celebrate your outstanding academic accomplishments as an undergraduate student at Kean University. At that event you will hear from our Salutatorian, from our invited speaker, Dr. Rajade Berry-James, who is herself a Kean alumna, and from other well-wishers on hand to applaud your well-earned honors diplomas. This webpage will provide you with all of the information you need to get the most out of this event. 
Though I want to save most of my thoughts about your achievements for the ceremony on the 6th, I want you to know right now how proud I am of each and every one of you for the talent and resilience you have brought to your studies since becoming a student at Kean. The entire class of '22 has faced unprecedented challenges, from pandemic to remote instruction to the return of in-person classrooms and everything in between. The honors designation that we celebrate today is evidence that you have brought an extra measure of determination to your work, excelling in your studies and taking the very best advantage of everything that a college education has to offer. Believe me, lots of people have noticed, as will the graduate schools to which many of you will apply and the employers, now or later, who will consider your applications. You have proven that you have what it takes to succeed at a very high level of accomplishment, and that is why we devote Honors Convocation to you. 
I so look forward to meeting you. Congratulations! 
Warm regards,

David S. Birdsell, Ph.D.
Provost and Senior Vice President for Academic Affairs
Keynote Speaker
RaJade M. Berry-James, Ph.D., '93 MPA, is an elected fellow of the congressionally chartered National Academy of Public Administration and vice chair of the Standing Panel of Social Equity in Governance. At NC State University, Berry-James is chair of the faculty and a professor of public administration in the School of Public and International Affairs. She has spent more than 30 years in higher education, having served as MPA coordinator, Ph.D. coordinator, and director of graduate programs for small, large and research-intensive graduate programs. Berry-James is also a consultant, specializing in diversity, equity and inclusion as well as assessment and accreditation in higher education. 
Berry-James' research, teaching and community engagement focus on the theory and practice of social equity. Her recent book, Why Research Methods Matter: Essential Skills in Decision Making (2018) emphasizes real-world policymaking and evidence building to support decision-making. She has published chapters in leading public management books and published her scholarly research in top journals including Public Administration Review, Journal of Public Affairs Education, Journal of the International Association for the Study of the Global Achievement Gap, and more. Berry-James has also served on the editorial boards of several scholarly journals. At NC State, Berry James has designed and taught the NASPAA award-winning MPA Capstone and Cultural Competence in the Public Sector courses, as well as designed courses in social equity, survey research and program evaluation. 
At Kean University from 1987-1999, Berry-James was an adjunct professor while holding the administrative positions assistant to the dean in the School of Liberal Arts and associate director of institutional research, among other roles. After Kean and prior to joining NC State, she held faculty positions at the University of Akron and at Georgia College and State University. 
Berry-James has received numerous awards in the field of public administration, including the Best Paper Award in 2021 from the Research Triangle Chapter of ASPA for her co-authored article, Stepping up to the plate: Making social equity a priority in public administration's troubled times. 
Berry-James earned a Ph.D. in Public Administration from Rutgers University (Newark) in 1999, a Master of Public Administration from Kean University in 1993, a Bachelor of Science in Business Administration from Rider University in 1987, and a Certified Public Manager (CPM) distinction from the State of New Jersey/Rutgers University in 1991. She has also completed additional certification programs. 
Berry-James' engaged scholarship is guided by an old Ethiopian proverb, "S/he who learns, teaches."