Alumni and Students Meet at Networking Event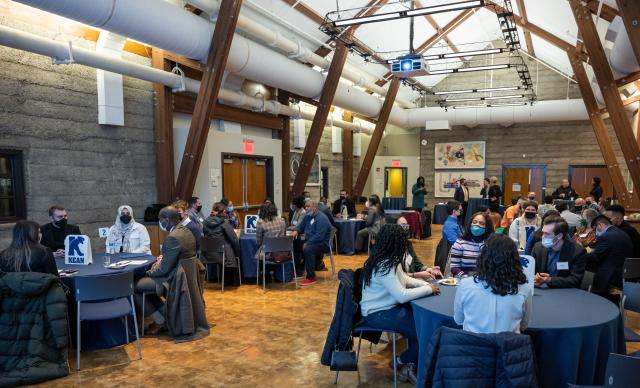 Kean University alumni shared career advice and made connections with students at the University's Alumni/Student Speed Networking Event held recently at Kean Hall.
Students exchanged handshakes and business cards with alumni working in the fields of public relations, sales, banking, education and more.
"At Kean University, we provide students with an academic experience that prepares them for their careers. This networking event takes the next step, connecting our students with professionals who can guide them and offer them a game plan for how to move into their future careers,"  said Kean President Lamont O. Repollet, Ed.D. "I thank the Kean alumni who graciously volunteered their time to network with our students."
The Speed Networking Event was sponsored by the Kean offices of Alumni Engagement, Career Services, and Diversity, Equity and Inclusion, as well as the Kean University Alumni Association.
More than 50 students and alumni took part. Alumni Association Executive Board Member Jerome Beazer, '12 MBA, now an executive director with J.P.Morgan Chase, kicked off the evening.
"We want to make sure all of you Kean students succeed, and we want to play a role in that," he said. "All of us alumni would not be in the positions we are in without this institution."
Alumni set up at seven different tables, and students moved from table to table every ten minutes, changing places at the sound of a bell. 
Kean graduate Alexa Canas '13, now the coordinator for corporate partnerships with the New York Jets, was one of the alumni participants. She said she was happy to have the opportunity to fill a mentor role for Kean students. 
Canas encouraged students to find work they are passionate about, perhaps discovering a career path through an internship. "You're going to spend a lot of time at your job," she said. "So be sure you enjoy what you're doing."
Justin Huryk, '20, an auditor and accountant with the Somerset County firm RRBB, said he also wanted to share his experiences. As a 2020 graduate, he said he felt his input would resonate with current students.
"I did this when I was a student — I still keep in touch with people I met then," he said. "The University has done a lot for us, and we're here to give back."
Peter Honczaryk, a senior marketing major from Clark who hopes to go into public relations, said he gathered contact information from several professionals and was enthusiastic about his next steps.
"It's a great opportunity," he said. "There's a lot more out there than I expected. I definitely feel hopeful."
Sarah Jerome of Springfield, a junior communications major, was also looking to make connections through networking. She said she hopes to work for a large firm in New York City.
"I'm hoping I can gain some knowledge from listening to people," she said. "I just need to put myself out there."