Architecture Students Helping Redesign Florida College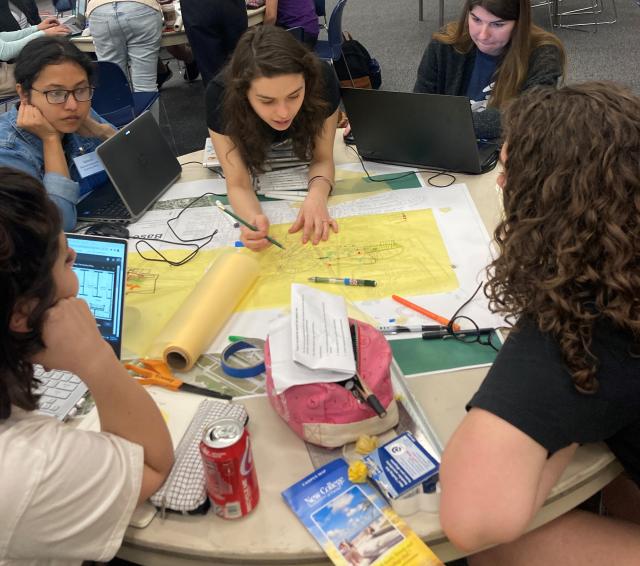 Kean University is one of six universities selected for the New College Challenge, in which architecture and design students reimagine a Florida college campus to address environmental, sustainability and other challenges.
A Kean team of architecture and design students traveled to Sarasota earlier this month for a "charrette," or brainstorming session, working alongside teams from Yale University, Syracuse University and the universities of Miami, Florida and South Florida – to define the issues and challenges. 
Michael Graves College Dean David Mohney said each of the six university teams will present their recommendations for re-envisioning the master plan to New College, a small, alternative liberal arts college, in May.
"Envisioning a master plan for New College has several opportunities: creating an engaging academic landscape that takes advantage of a uniquely beautiful site, supports plans for increased enrollment, and prepares for the changing environment due to climate change," Mohney said. "It aligns well with the School of Public Architecture's goal of engaging with a public audience and cultivating the benefits of good design."
The six universities in the New College Challenge all boast leading architecture programs. Michael Graves College was selected because of earlier design projects in Nantucket. 
Most of the Kean students are architecture majors in a fourth-year design studio, and two are design students in the Robert Busch School of Design. Co-teaching with Mohney is Kean Equity in Action Presidential Fellow Venesa Alicea-Chuqui.
"Designing for resilience is a challenge for all cities," Alicea-Chuqui said. "I believe in the application of design skills and working with multiple stakeholders to envision what a more resilient future looks like for the built environment."
The New College campus faces multiple challenges. Located on Sarasota Bay, the campus is vulnerable to sea-level change and flooding, especially five College buildings along the coastline that were mansions formerly owned by the Ringling family. In addition, the College borders Sarasota Bradenton International Airport, which is seeking to expand, and the campus is split by U.S. Highway 41. 
Kean students said they are pleased to be working on the real-world project in Sarasota.
"I like landscape architecture and urban planning, so it interests me," said senior Alisson Ayala Villarreal, who came to Kean from her native Ecuador to study architecture.
She said it was a great experience to work with students from the other universities.
"We are working with big, big universities, and we see we can do it," she said.
Khalif Dowdy, also a senior architecture major, saw the project as a great opportunity to gain professional experience.
"It's good to delve into that kind of work, so when I go into professional practice, I have experience in problem solving," he said. "I like a challenge." 
New College is expected to hold an exhibition of the work created by the six university teams in the fall.
Tagged