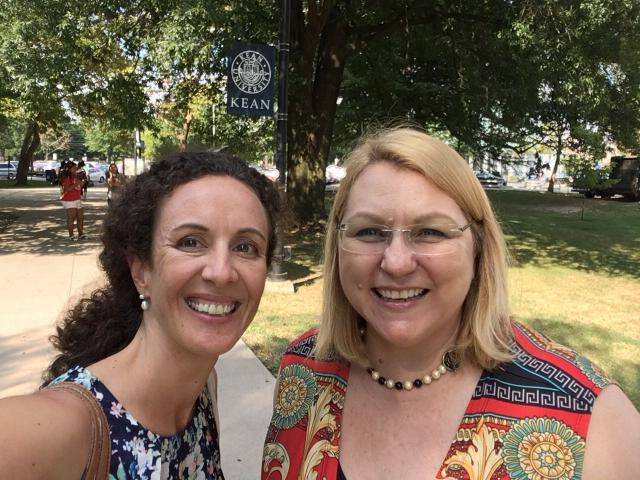 Kean students recently got a lesson in international social activism from the head of a nonprofit organization that is helping to build communities in impoverished areas in South Africa.
Meleney Kriel and her husband founded Viva Foundation, a group that is focused on assisting orphaned and vulnerable children, alleviating poverty, preventing sexual violence, and promoting the arts in South Africa. She spoke to a number of Kean global studies and public administration classes in early September.
Kriel began each class by explaining the complexity of poverty and how her organization determines who would benefit most from the services that it provides.
"We decided as an organization that vulnerability is what we are working at," she said. "We are looking at who has been made vulnerable by poverty, by inequality, by HIV/AIDS and by violence in our country."  
Sara Compion, Ph.D., director of interdisciplinary and global studies, invited Kriel to Kean's campus after a summer research trip to South Africa with two Kean students and Assistant Professor Bok Jeong, Ph.D. from the public administration program. They researched volunteerism and worked with Viva volunteers in South Africa.
Compion is now collaborating with Career Services and the College of Liberal Arts to establish internship and study abroad opportunities with Viva Foundation for Kean students.
"One of the things that Viva does so well is work with universities and their volunteers to inform their practices using evidence," Compion said. "For example, geography and geology students focus on GIS mapping, and psychology and social work students interact with young kids with developmental problems. This evidence-based experience gives their volunteers a valuable learning experience."
Kean President Dawood Farahi, Ph.D. has committed to providing each Kean student with an internship, practicum or experiential learning opportunity. Compion says she looks to international organizations like Viva Foundation to provide her students with the perspectives and experiences needed for success in the global arena.
Tagged