CNN's Dana Bash Discusses 'Divided' Electorate in Distinguished Lecture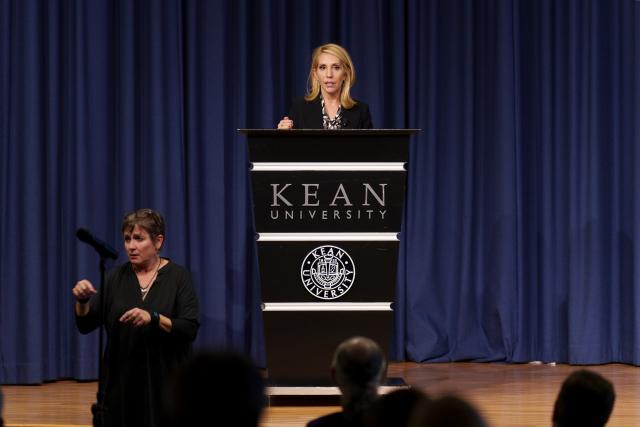 The Kean University community got an inside look at the nation's pivotal midterm elections from CNN Chief Political Correspondent Dana Bash, who spoke on the Union campus November 15 as part of the University's Distinguished Lecture Series.
Just one week after Bash played a key role in CNN's coverage of tumultuous races for the U.S. Senate, Congress and many governors' offices, she said the takeaway from the midterm elections is "America is sick of vitriol.
"America is ready for their elected officials to get things done," she said. "I'm not making a judgment on either party, but I am making a judgment in favor of truth and facts. As somebody who very much has reverence for truth and facts, that's not a bad thing."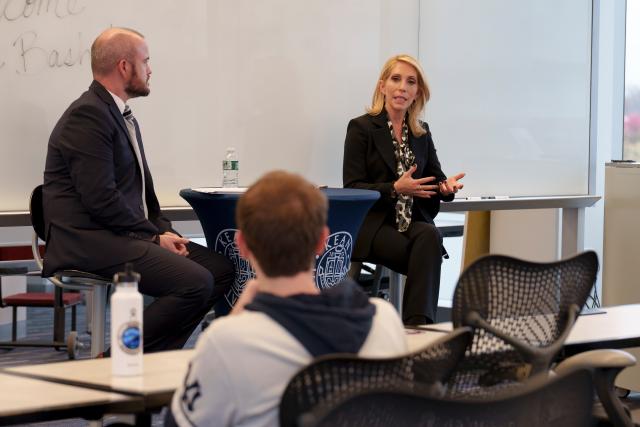 Kean's Distinguished Lecture series brings thought leaders and newsmakers to share insights and experiences with the Kean community. The Bash event was the first lecture of the 2022-2023 school year.
"We are honored to provide the Kean community a window into the national midterm elections from Dana Bash, one of the most respected and prominent journalists working today," said Kean President Lamont O. Repollet, Ed.D. "As we take stock of the health and future of our democratic republic following the elections, it is more important than ever that our students learn about the importance of democracy and voting.  We thank Ms. Bash for sharing her insight with us and delivering that crucial message."
Bash, who is also co-anchor of CNN's State of the Union with Jake Tapper and Dana Bash, met with Kean students in a classroom then spoke to an audience of Kean students and employees and community members in the STEM Building. 
"I'm not going to lie - I'm very tired because we have so much to unpack in this election, which is still going on," said the anchor, after she was introduced by Kean Executive Director of Theatre Management and Programming John Wooten. 
The races turned on issues such as abortion, inflation, the economy and redistricting, Bash said, noting that some elections remain undecided after a week of counting results.
"The fact this is such an incredibly close election shows this is a country divided," she said. "The fact that so many people voted is a really good message that participation matters. Everybody's vote matters."
The classroom session was moderated by Acting Director of Career Curriculum and Academic Partnerships Jeremiah Sullivan. Bash, a New Jersey native, began by answering a few fun questions about her favorite Garden State diner and other preferences.
She spoke about her career, warned the students to know their news sources, particularly on social media, offered students career advice and took questions.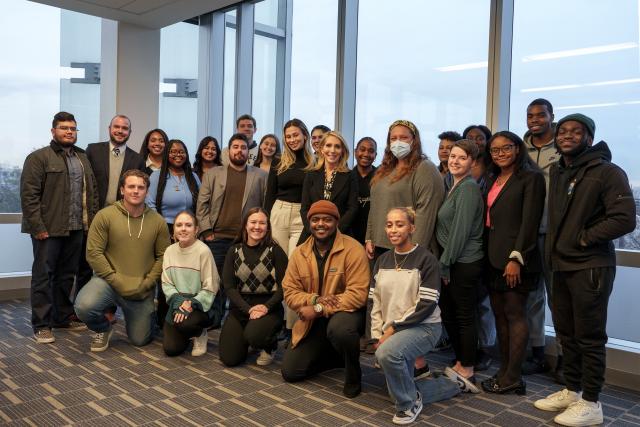 "As much as you can get internships, do it. They taught me what I didn't want to do as much as what I did," she said. "Learn what you love, and make contacts. Ask a ton of questions ... and push yourself."
Afterward, Bash said the students asked "spectacular questions, really, really insightful questions. Every time I come to a school like Kean, it makes me very hopeful about the future."
Senior Erica Gonzalez, a communication studies major from Keyport, was one student in the classroom. She said Bash was candid and honest. 
"Having someone who we know is so successful mentioning being nervous when you're new at a job helps me relate," she said.
Kean's Distinguished Lecture Series will continue throughout the academic year, offering the following speakers:
Writer and musician James McBride, recipient of the 2013 National Book Award for fiction for his novel, The Good Lord Bird, will conduct a lecture and book-signing on February 9, 2023, at Liberty Hall Academic Center, 4:30 p.m. The theme of his lecture will be The Color of Water: A Meditation on Identity.
 
On April 24, 2023, as a part of Kean's Research Days, theoretical physicist, futurist and best-selling author Michio Kaku, Ph.D., will speak and have a book-signing. His lecture takes place at Kean's STEM auditorium, at 4:30 p.m.
Bash, who is based in Washington, D.C., joined a list of previous Distinguished Lecturers at Kean that includes Pulitzer Prize-winning presidential historian Jon Meacham, civil rights leader Martin Luther King III. author Chelsea Clinton and Bash's colleague, CNN senior political correspondent Abby Phillip.