Concert Choir Presents Songs of Love and Arte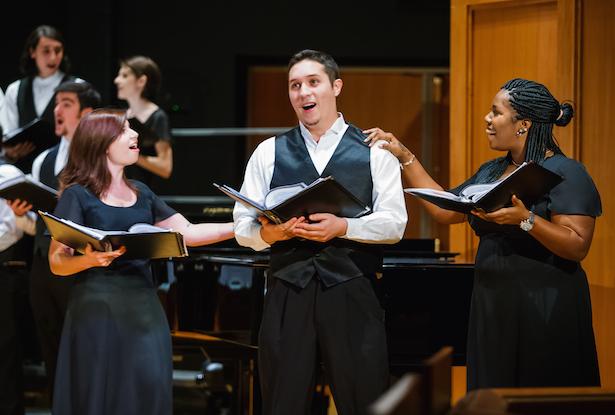 The Kean University Concert Choir and Chorale Women's Chorus will present their spring choral concert, Songs of Love and Arte, on Sunday, April 9 at 3:00 p.m. in Enlow Hall. The choir will be conducted by Mark Terenzi, Ph.D., and accompanied by the Kean University Percussion Ensemble, led by Professor James Musto.
"Our concert in Enlow is a culmination of eight performances this semester," said Terenzi. "At a recent concert in Williamsburg, the Kean choirs performed to a packed audience of several hundred and they were honored with a standing ovation. Some in attendance said 'we don't hear this kind of quality very often, even in Washington D.C.'"
The program will feature a diverse array of a cappella, sacred, and secular works, including selections from the towering choral masterpiece Carmina Burana by Carl Orff. Other program highlights include a Cole Porter medley, selections in French, English, and Latin by Casal, Biebl, and Hogan, pieces representing the great vocal jazz tradition, the stirring spiritual Wade in the Water, and Joyful, Joyful from the film Sister Act 2.
Featured soloists and student conductors at the event will include: Aaliyah Atwood, Lauren Brodowski, Dannyele Crawford, Angelica Firetto, Aaron Geusic, Edward Griffin, Isaiah James, Asia Johnson, Christina Masucci, Emily Niemeyer, Chantal Ojeda, and Matthew Tartza.
Songs of Love and Arte is the final performance in a tour that visited Union High School, Hillside High School, Linden High School, Rahway High School, Thomas Jefferson Arts Academy in Elizabeth, St. Joseph the Carpenter School of Roselle, historic Bruton Parish Church in Williamsburg, V.A., and Laurel Hill UMC Church in Richmond, V.A.
Enlow Hall is located on Kean University's East Campus at 215 North Ave. in Hillside, N.J. Admission is free.
Tagged