Former New York Jets Cheerleader, Dance School Owner Earns Education Degree from Kean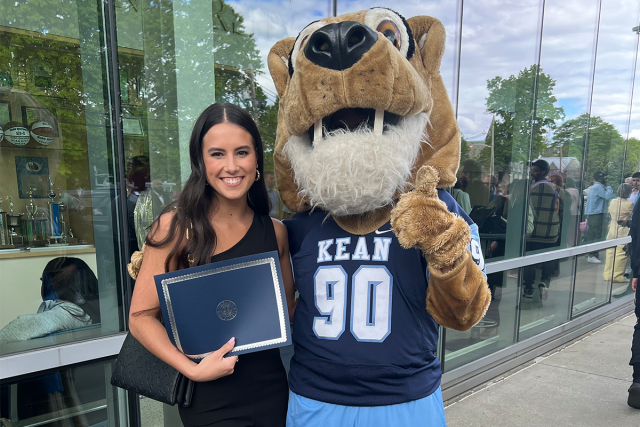 Megan Braine '23 juggled two careers – as a New York Jets cheerleader and co-owner of a dance studio – while she pursued her education degree at Kean University.
"I'm a very go-go-go person, driven by passion," said Braine, of Sayreville, who graduated summa cum laude this month with a Bachelor of Arts in elementary education. "I need to do a million things to be happy. Anyone can, if they put in the work. The key is time management."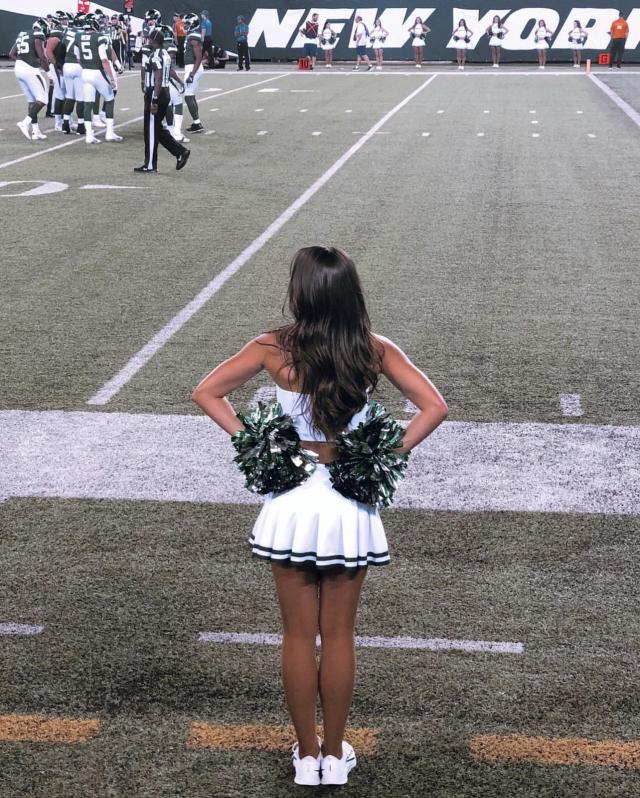 Braine auditioned for the Jets in 2019 while a student at Middlesex College, where she found that she missed her high school involvement in dance and cheerleading. Through numerous audition rounds, Braine was featured in the YouTube series Making the Squad, which helped bolster her public speaking and interviewing skills.
She joined the Jets Flight Crew at age 19 and remained in the paid position through her transfer to Kean in the Spring 2020. She concluded her time with the squad in 2022.
"It was one of the most incredible experiences," Braine said. "At MetLife Stadium, about 80,000 people sit in the stands. I'm very grateful I was able to experience that outlet to do what I love."
Not long after joining the Jets squad, she opened Generations Dance Company with her mother, Melissa Braine, who has taught dance for 35 years, and her sister, Samantha Dobiszewski, who majored in dance at Philadelphia's University of the Arts.
They fulfilled their long-held dream after a friend called to offer them a tour of a space in Dunellen. The mother and daughters saw a once-in-a-lifetime opportunity in a beautiful building with a vintage flair, snapping it up and opening the studio in 2021 despite the uncertainty of the pandemic.
Braine was also studying elementary education at Kean because she wanted a career path more stable than performing. Along with her degree, she pursued certification as a teacher of students with disabilities.
"I gravitate toward special-needs students," she said. "They are so smart and capable, and I want to be that teacher who will advocate for them and help move them forward."
Dobiszewski said she has no doubt that her sister will be able to guide and teach her students, having witnessed her sister's dedication to her studies and work with young dancers.
"Megan's future students are beyond blessed to have such a kind-hearted and committed teacher to help them grow," Dobiszewski said.
Braine served as a student teacher for a fifth-grade class at South River Elementary School, creating a "Mind, Movement and Meditation" curriculum that involved yoga, discussion and mindfulness.
"I was amazed at how her students were willing to participate and engage in rich discussion with the group," said Kean Lecturer Daun T. Ward, Ed.D., Braine's clinical practice supervisor.
Braine continues to multitask in her professional life and is looking for both a teaching position and to audition for professional dance opportunities. She has a personal philosophy that keeps her motivated.
"Just be on your 'A' game all the time and put your best foot forward," she said.