Garden State Guarantee Provides New Affordable Pathway at Kean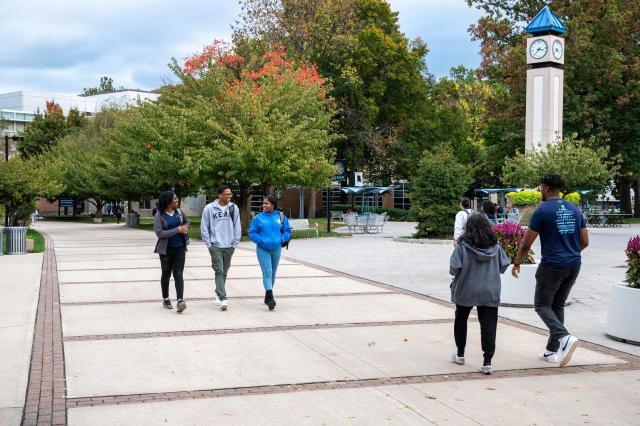 Kean University is now part of the State of New Jersey's Garden State Guarantee (GSG) program that provides a free college education to eligible students in their third and fourth years of study, further expanding access to the University's world-class education.
The new program, signed into law by Gov. Phil Murphy, adds to an array of financial aid and scholarship opportunities already available at Kean, which is the State's most affordable comprehensive university. 
"We are excited to be partnering with Gov. Murphy and the State of New Jersey to expand access and affordability to students, making it possible for more students to attend and graduate from Kean University," said Kean President Lamont O. Repollet, Ed.D. "The new Garden State Guarantee helps Kean advance its goals of creating equity and providing academic excellence to all students.
Combined with the Kean Tuition Promise, which covers up to full tuition and fees for eligible students in their first and second years of study, the GSG makes a free Kean education possible for many students.
"Kean has been recognized by U.S. News & World Report for its success in advancing social mobility for students, and the Garden State Guarantee enhances Kean's strong aid package that allows eligible students to graduate with little to no college debt," Repollet said. "This is a powerful opportunity for our students."
The Garden State Guarantee is available to New Jersey residents who attend in-state, public four-year institutions. The funds are applied to cover a student's remaining balance of tuition and fees, after any other federal, state, institutional and outside aid is used, including veteran's education benefits.
Under the program, New Jersey residents who have an adjusted gross income (AGI) between $0 and $65,000 will not pay anything for tuition and mandatory fees in their third and fourth years of study toward a bachelor's degree. 
"Kean is proud to be an institution that serves a diverse student population, including a large percentage of students who are first in their family to attend college," said Michael Salvatore, Ph.D., Kean's senior vice president for administration. "We expect many of our Kean students will be able to utilize this program to achieve their dream of earning a college degree."
The Garden State Guarantee was created and signed into law by Murphy as part of the State's 2022 budget. Students are automatically considered for the GSG when they complete the Free Application for Federal Student Aid (FAFSA) or, if they qualify as a NJ Dreamer, the NJ Alternative Financial Aid Application by April 15, 2022 for the 2022-2023 academic year.
Vice President for Enrollment Services Marsha McCarthy said the Garden State Guarantee works in tandem with Kean's financial aid and scholarship programs are also available to help students at Kean, including the Kean Tuition Promise.
"Together, the Garden State Guarantee and the Kean Tuition Promise ensure that eligible Kean students can achieve their dream of a college degree," McCarthy said. 
Students and their families are encouraged to visit the Kean Garden State Guarantee webpage for information and eligibility requirements.
Tagged