Statewide Physical Therapy Conference Held at Kean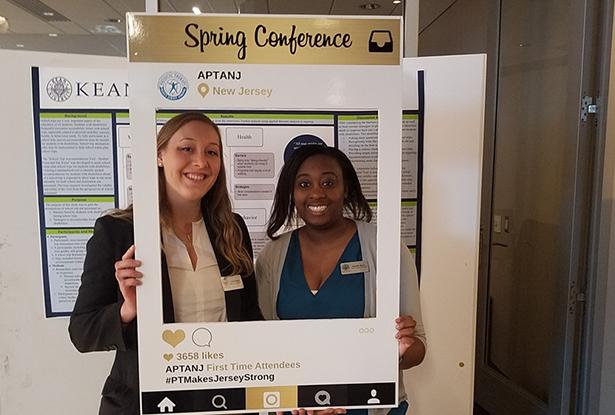 Nearly 150 physical therapists, clinicians, administrators, faculty and students from throughout New Jersey attended a recent statewide conference at Kean University to explore current topics in the field, such as the use of physical therapy to combat pediatric obesity and the opioid addiction epidemic.
The American Physical Therapy Association of New Jersey (APTANJ) annual spring conference was held at the North Avenue Academic Building, the home of the Kean School of Physical Therapy.
Working with Assistant Professor Kimberly Wynarczuk, DPT, two first-year physical therapy students – Nicole Monaco of Tinton Falls and Danielle Burns of Hyattsville, Maryland – presented their research on a school trip accommodations tool that is under development.
"We conducted in-depth interviews with facilities that host school trips to find out what barriers they face in providing accommodations for students with physical, sensory and behavioral-related disabilities and the strategies they employ to overcome those barriers," said Monaco. "Our goal is full participation of all students in school trips."
Kean's School of Physical Therapy is the only academic institution in New Jersey to support the APTANJ as a sponsor. Since the school opened in 2016, it has hosted a statewide student conclave, continuing education events and now, a state conference.
"Kean physical therapy students had the highest attendance rate at this important state conference, which demonstrates their commitment and engagement within the profession," said Shannon Clifford, Ph.D., executive director of the School of Physical Therapy. "They attended sessions geared toward the practicing clinician, learning side by side with experienced professionals in the field."
Kean students impressed many of those in attendance with their knowledge and engagement.
"The poster presentation was interesting. There were so many students. It was great to see exciting research from the next generation of physical therapists," said Phil DiLavore, a physical therapist at St. Barnabas Medical Center in Livingston who attended the conference.
Daniel Klim, APTANJ executive director, sees Kean's School of Physical Therapy as a partner in advancing the field of physical therapy in the state.
"My goal is to keep top talent here in the Garden State," he said. "Kean's students are a very bright and energetic group. I want to support them any way that I can."
Monaco, who has her undergraduate degree in fashion merchandising, said presenting at a statewide conference gave her confidence and important feedback for her academic progress.
"The DPT program is challenging in the best way possible," she said. "I'm learning more than I thought I was capable of absorbing, and I'm also learning how to apply that knowledge, think critically, and ask questions."
Kean routinely hosts Union County Medical Association meetings to work collaboratively with leaders in the field of medicine and is growing as a hub for training students to enter healthcare-related fields.
 
Photo Caption:  First-year physical therapy students, Nicole Monaco and Danielle Burns, presented their research at the recent American Physical Therapy Association of New Jersey spring conference, held at the North Avenue Academic Building on Kean's campus.
Tagged