APA Apology
On October 29th, 2021, the American Psychological Association (APA) Council of Representatives issued a public statement "apologizing to people of color for APA's role in promoting, perpetuating, and failing to challenge racism, racial discrimination, and human hierarchy in the U.S." (American Psychological Association, 2021). The apology contains proposed resolutions as to how APA will acknowledge their roles in psychology of failing to challenge racism. The resolutions provide means of using psychological science to remedy harms in society.
American Psychological Association. (2021). Apology to people of color for APA's role in promoting, perpetuating,              and failing to challenge racism, racial discrimination, and human hierarchy in U.S. American Psychological                    Association. Retrieved November 8, 2021, from https://www.apa.org/about/policy/racism-apology 
Allied Health Workforce Diversity Act Reintroduced in Congress
On May 18th, 2021, The Allied Health Workforce Diversity Act was reintroduced in the 117th Congress in both the House and the Senate. This bill would provide the Department of Health and Human Services to provide grants and opportunities to accredited education programs to increase diversity in the professions of occupational therapy, physical therapy, respiratory therapy, audiology, and speech-language pathology. As of November 4th, The House Energy & Commerce Subcommittee on Health unanimously approved the legislation, which will then be sent to the full Committee for consideration. Next in the legislative process is full Energy & Commerce approval. This approval would be followed by consideration of the full House of Representatives. The last step would include the bill passing through the Senate before it is signed into law.
AOTA Board Member Testifies at Congressional Hearing Leading to Two Legislative Victories on Diversity and Mental Health.
Advocacy Projects- Fall 2021
Increase diversity in the OT profession 
To attempt to increase diversity within the field and knowledge of the occupational therapy profession, second-year students created and gave a presentation explaining occupational therapy (OT) to Kearny High School's Medical Professions class. A literature review revealed a need for greater diversity within the profession. In 2019 the majority of OTs were white (84%) and female (91%) (AOTA, 2019). Additionally, high school and undergraduate students seem to be unaware of what occupational therapy is, and express little to no interest in it as a career (Collins & Carr, 2018). Kearny High School's total minority enrollment is 66.1% students and 52% of students are male (U.S. News & World Report, 2019). The students' goal was to further explain occupational therapy to students and hopefully create an interest in the profession. Their presentation covered the definition of occupation and therapy, goals of occupational therapy, populations and settings OTs work with, and how one could become an OT.
Mailboxes at the Coalition of Elizabeth
Postal paradox occurs when an individual experiences homelessness and is in need of mailing access whether it's for a job or government documents in order to receive aid. However, if a mailing address is inaccessible then the person will continue to experience homelessness. Mayor Lora of Passaic, New Jersey implemented a mailbox program to provide aid to the homeless population in that area. Once the second-year students became aware of this program, they decided to expand this vision to other cities such as Elizabeth, New Jersey to reach a larger population. As occupational therapy students, they reached out to Sheila, a representative from the Elizabeth Coalition to House the Homeless, to propose the possibility of implementing a mailbox program at one of their shelters. A voice-over powerpoint presentation was created as an educational resource to provide Sheila with an explanation of the benefits of a mailbox program. It also includes the necessary information for Sheila to be able to contact the Mayor of Elizabeth, Mayor Bollwage, to start the process of installing a series of mailboxes to create a point of access for the homeless population in Elizabeth. Additionally, this powerpoint can also be sent to other shelters as an educational resource to assist other communities where homelessness is prevalent. 
Advocacy Project- Mailboxes at the Coalition of Elizabeth
Paint and "Sip" at the Kean University Occupational Therapy Community Cares Clinic (KUOT-CCC)
Kean University graduate occupational therapy students, Monica Lucianna, Kaitlyn Boyce, Meghan Donnelly, and Nicole Reynolds led a free and inclusive paint and "sip" event for young teens ages 11-13 to facilitate social participation skills at Kean University Occupational Therapy Community Cares Clinic on December 15. Participants painted festive snowmen in time for the holiday season to express their creativity. They enjoyed pizza and refreshments while socializing with peers. Check out some photos from the event below.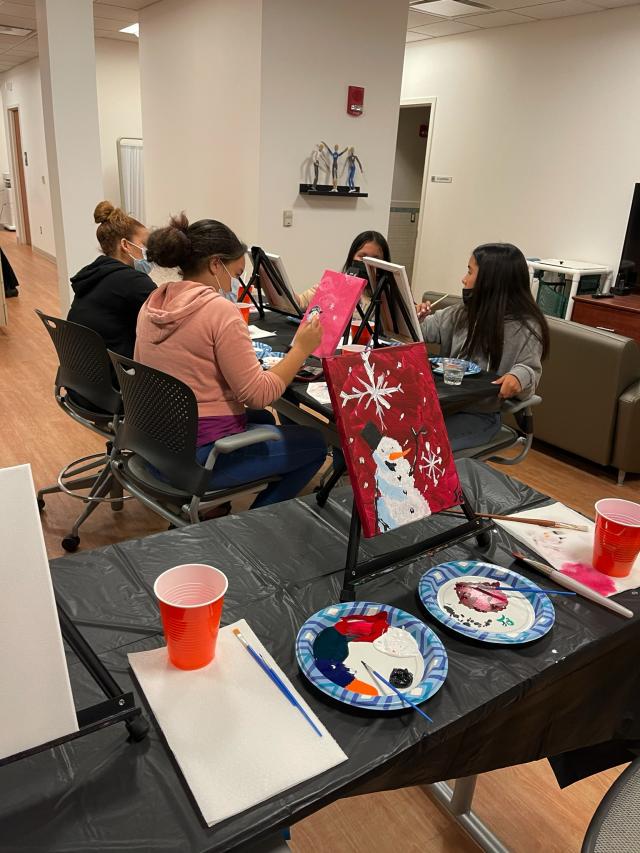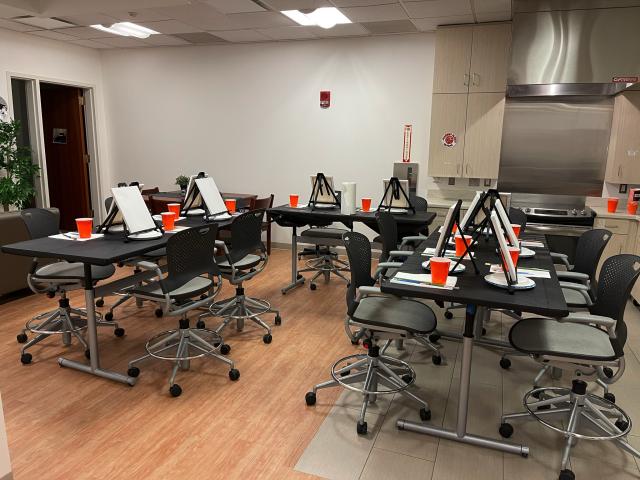 Congratulations to Dr. Claire Mulry: Scholar, Mentor, Community Advocate and Educator
Dr. Claire Mulry has been chosen to receive the Roster of Fellows Award, which recognizes occupational therapist members of AOTA who through their knowledge, expertise, leadership, advocacy, and/or guidance have made a significant contribution over time to the profession with a measured impact on consumers of occupational therapy services and/or members of the Association.
Additionally, Dr. Mulry received an $8000.00 grant from NJ AARP for her Thriving in Community Program position. This program allowed (Fieldwork 1) students under licensed occupational therapists' supervision to deliver 8 weeks of wellness programming in 7 affordable housing buildings for older adults in 5 New Jersey counties. The wellness programming included fall prevention education and fall screens, AARP's Home Fit program in a group setting with supplemental individual apartment home assessments with safety and equipment recommendations, and 4 weeks of Let's Go Community Mobility Programming. This programming targeted to each individual building's residents' needs and desires. The supplemental wellness programming included exercise groups, healthy meal planning, chair yoga, health education/ activity bingo, computer education, pain management, hand strengthening, vision evaluations, and story-telling/writing classes.
Finally, you can find Dr. Mulry's quick tips on Melissa Clark's Aging Insights show!
ACOTE Accreditation
We are proud to announce that the Accreditation Council of Occupational Therapy Education (ACOTE) has awarded the Occupational Therapy Program at Kean University with a 10 year period of accreditation for meeting the standards of the Master's Degree Level Educational Program for the Occupational Therapist. The 10 year period of accreditation is the highest level of achievement possible to attain, ensuring the quality education this program provides for future entry level occupational therapists. Only 30% of programs earn this level of accreditation. Thank you to all who worked diligently throughout this process, thus making accreditation a success!
Click here for the ACOTE 2014 Official Findings report.
Correspondence should be directed to: ACOTE, c/o Accreditation Department, American Occupational Therapy Association (AOTA), 6116 Executive Boulevard, Suite 200, North Bethesda, MD 20852-4929. Their phone number is (301) 652-AOTA. Website: www.acoteonline.org.
Kean University Occupational Therapy Community Cares Clinic
The Department of Occupational Therapy is proud to announce that the occupational therapy clinic has been operating since Fall 2014. This state of the art facility provides occupational therapy for individuals from the community. Clients are from across the lifespan with a variety of needs, including children and youth, rehabilitation and disability, mental health, productive aging, and health and wellness services. Moreover, occupational therapy students utilize the clinic to practice hands-on skills being taught in the classroom, to create splints, lead Community Partnership & Service programming with clients, and as a possible fieldwork placement. Kean University Occupational Therapy is the only program in the tri-state to have its very own onsite clinic.  For more information on the Kean University Occupational Therapy Community Cares Clinic, please click here.