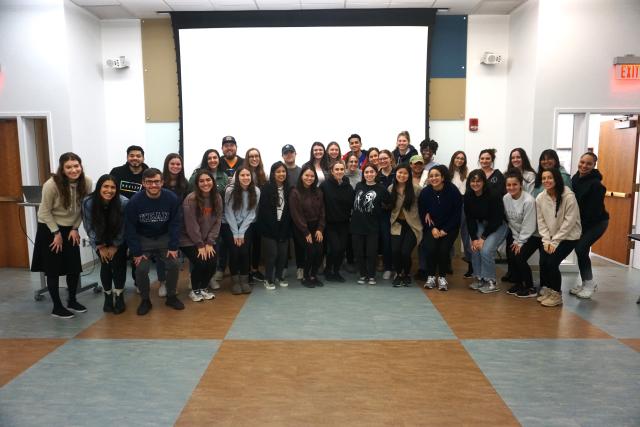 Student Handbook
The student handbook was developed to provide you with important information about our program such as our vision/mission, departmental policies, and curriculum guides. The Essential Functions of an Occupational Therapy Student must be reviewed by each student (p. 49), and the Handbook Acknowledgement Form must be submitted by the first week of classes. Please refer to the handbook when you have a question about our program or require additional clarification.
---
Fieldwork Manual
In the student fieldwork manual you will find valuable information regarding your Level 1 and Level 2 fieldwork experiences. The purpose of this handbook is to introduce you to different types of fieldwork, describe the process of fieldwork requirements and selection, outline your responsibilities as a student, detail what the faculty and staff roles during fieldwork experiences, and give you information on evaluation and grading. Please refer to the Fieldwork tab for more information.
---
Professional Behavior Forms
The Department of Occupational Therapy values the professional development of its students. To assist in this development, the faculty members may require that a student complete a "Professional Behavior Monitoring Form." This form will be used as necessary to improve professional behavior.
---
Required Course Textbooks
Please reference Kean's Online Bookstore for the most up-to-date list of readings.
---
The Department of Occupational Therapy Library
The Department offers a library for students to access books and other publications. You may acquire items for loan by visiting the Department office and signing out books with the assistance of faculty or graduate assistants.
For a list of the OT Department library books available to students and faculty, please click here. Note that this list does not reflect if a book is currently checked out, please visit the department for availability. 
Also, do not forget to search the Nancy Thomas Learning Commons for any books relative to the program. The Nancy Thomas Learning Commons possesses a large collection of required and recommended courses readings as well.
---
The Department of Occupational Therapy Resources
As a current student in the professional phase of the program, the faculty allows access to various assessments, equipment, and materials pertaining to adult rehabilitation, pediatrics, and psychosocial settings.  Students MUST request permission to use the items from faculty members only and complete the appropriate sign out procedures.
Students who do not return items during the semester in which they borrowed Kean's resources will receive an incomplete for their class. 
Other Useful Resources
Please click here to find a document of resources recommended by students and faculty.
---
Get Involved!
Student Occupational Therapy Association
- Student organization that meets on campus with exciting activities, guest speakers, and various volunteer opportunities—visit the SOTA page for more!