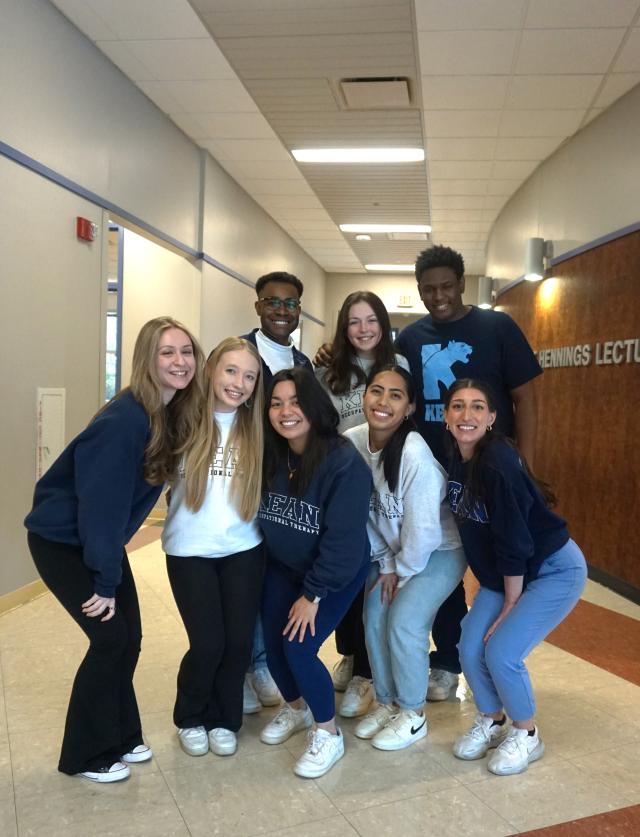 Q1. How competitive is admission to the program? 
A. Admission into the program is extremely competitive. Each year we receive a large volume of qualified candidates. Only those with a very strong application will be considered. 
Q2. Are the M.S and entry-level OTD programs certified? 
A. Yes, our Occupational Therapy programs are accredited by the Accreditation Council for Occupational Therapy Education (ACOTE) of the American Occupational Therapy Association, 6116 Executive Boulevard, Suite 200, North Bethesda, MD 20852-4929.
In the 2013/2014 academic year, the Kean M.S. Occupational Therapy program earned 10-year accreditation from ACOTE. Only 30% of institutions achieve this status as it is the highest level of accreditation. Kean's MSOT program is in the process of accreditation renewal for 2023/2024. Our newly accredited entry-level OTD program was certified as of December 2020.
Graduates of these programs will be eligible to sit for the national certification examination for the occupational therapist administered by the National Board for Certification in Occupational Therapy (NBCOT). 
Q3. What is the tuition? Is it different for out of state students? 
A. The Occupational Therapy program has special tuition and fees in comparison to other programs at the university. Please refer to the Student Accounting Tuition and Fees.
Q4. Does my undergraduate degree need to be in a related area? 
A. Undergraduate degrees do not have to be related to any specific area. At Kean University, we understand that students have varied interests and we welcome applicants with various baccalaureate degrees. 
Q5. Will being a Biology major increase my chances of being accepted into the program? 
A. No, each applicant, regardless of his or her undergraduate major will have equal opportunity to gain acceptance into the program. As long as you successfully complete your baccalaureate degree and all of our admission requirements, then you will be able to undergo the application process. 
Q6. Does it matter if I earned my undergraduate degree many years ago? 
A. Having earned an undergraduate degree many years ago does matter with regards to the following: 
GPA must be at least a 3.0
If degree was earned more than 5 years ago from the year in which you apply to the program, you must retake Anatomy and Physiology I and II (each with a lab component) and Life-Span/Developmental Psychology.
Q7. Can I still apply if my GPA is lower than a 3.0? 
A. The minimum overall GPA requirement of 3.0 is a policy of The College of Health Professions and Human Services.  We understand that every applicant has a different circumstance, but we are unable to consider you for admission if your overall GPA is below 3.0.
Q8. Can I transfer in from another OT program? 
A. No. It is very important to know that even though OT programs are similar with regards to the material which is covered, the sequence in which these courses are offered varies tremendously from program to program. Therefore, you are more than welcome to apply to our program. If accepted, you will be beginning as a new first-year occupational therapy student. 
Q9. Does every applicant get an interview? 
A. No. Every applicant does not receive an interview. Only those candidates with a very strong application will be invited to an interview. An interview does not guarantee acceptance into the program.
Q10. How do I take prerequisite classes at Kean?
A. To take any prerequisite courses at Kean, you may do so as a non-matriculated student.  For more information, please visit: https://www.kean.edu/offices/registrars-office/visitingnon-matriculated-students
Q11. Do I have to complete the prerequisite courses at Kean University? 
A. No. The only prerequisite course you must complete at Kean University is Introduction to Occupational Therapy. Other prerequisite courses can be taken at any accredited institution/community college, as long as the course description matches the provided Kean prerequisite course descriptions as listed under the M.S. and OTD Admissions tabs. For example, Lifespan Psychology must include the entire lifespan, from birth to senescence. Psychological Statistics must include the use of a microcomputer-based statistical software package.
Q12. How do I register to take the Introduction to OT prerequisite at Kean? 
A. If you are a non-matriculated student, please refer to question #10. Intro to OT is offered every semester in both in person and online formats. 
Q13. Can I take the Introduction to Occupational therapy course at another school? 
A. No. Please refer to question #11. 
Q14. Where can I complete my observation hours*? 
A. You may complete your observation hours* in a variety of clinical practices. Documented observation of occupational therapy services within a variety of age groups and practice areas for a minimum of 40 hours in two or more practice settings is required. Each applicant may choose from a diverse variety of settings, such as: hospital settings, community based programs, skilled nursing facilities, early intervention, school based programs, home care, outpatient programs, hand therapy sites and/or mental health sites.
If you are unable to complete your observation hours for any reason, please email ot@kean.edu for an alternative option. 
Q15. Is there a form to document the observation hours? 
A. Yes. The total number of hours must be documented using the OT Observation Rating Form. This form must be filled out for every setting in which you observe an occupational therapist. 
Q16. Can I complete my observation hours after I apply? 
A. No. Observation hours need to be completed before applying for admission into the program. At the time you apply, each applicant must provide documented observation of occupational therapy services in two or more practice settings for a minimum of 40 hours. 
* Please refer to question #14 for further instruction. 
Q17. Is the application process different for me because I completed my bachelor's degree in another country? 
A. All international students must satisfactorily complete all admission requirements for the Occupational Therapy program. In addition to these admission requirements, international applicants must also refer to International Applicants for important and specific information regarding the application process. 
Q18. Can I set up a meeting with an advisor from your department? 
A. No. Unfortunately, due to the high volume of candidates, we do not meet individually with each applicant. However, we host information sessions and attend both the Undergraduate and Graduate Open Houses in both the Fall and Spring semester. This would be a great opportunity for you to meet with our admissions staff. Please check our website frequently for the dates for these events. 
Q19. Can I work while I'm in the program? 
A. It is not recommended, but this is a personal decision. Be advised that the class schedule changes every semester. If you do choose to work, it is helpful to have flexibility in your work schedule to accommodate changes in the class schedule. 
Q20. How many semesters long is the program? 
A. The master of science program includes 4 full-time academic semesters plus 1 summer session (one class) plus a total of 24 weeks of Level II fieldwork experiences (comprised of 2 distinct fieldwork experiences and each runs for 12 weeks). 
The entry-level doctorate program is completed over a course of 10 semesters, two level II fieldworks, and a 14-week doctoral residency. 
Q21. Can the OT program be completed at night? 
A. Classes for the M.S and OTD programs at Kean University are not offered at night. Classes are regularly scheduled during the morning and some may be in the early afternoon and evening hours. Schedules vary from semester to semester. 
Q22. How do I know if the courses I took at another college meet the prerequisite requirements? 
A. We highly encourage that all prospective students email us at ot@kean.edu with a course description of the class prior to you registering for the course. 
Q23. Can I defer if I am accepted to the program? 
A. No. Unfortunately we do not offer this option.
Q24. Can I enter the program as a part time student? 
A. Some part time options are available upon request.