White Coat Ceremony Celebrates Kean Physical Therapy Students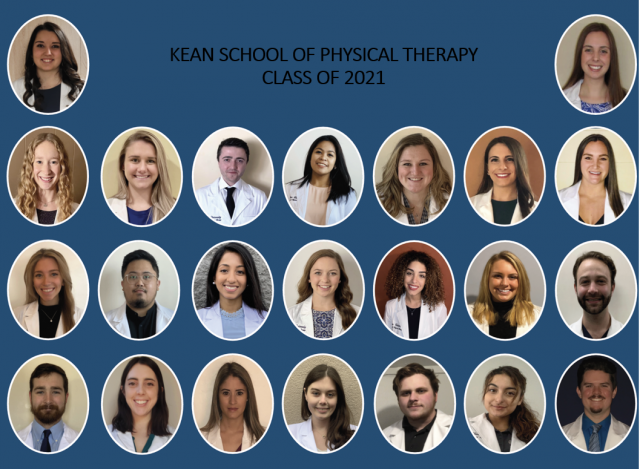 Kean's Doctor of Physical Therapy (DPT) school held its first White Coat Ceremony, marking the students' entry into clinical training at hospitals and other healthcare settings in preparation for graduation this year.
The 23 students in the DPT Class of 2021 received their white coats in a virtual ceremony, held on Zoom on Friday, January 8. 
"This is a rite of passage," said Elizabeth Locke, Ph.D., executive director of the Kean University School of Physical Therapy. "The white coat is a symbol of the purity of the medical profession, a symbol of caring,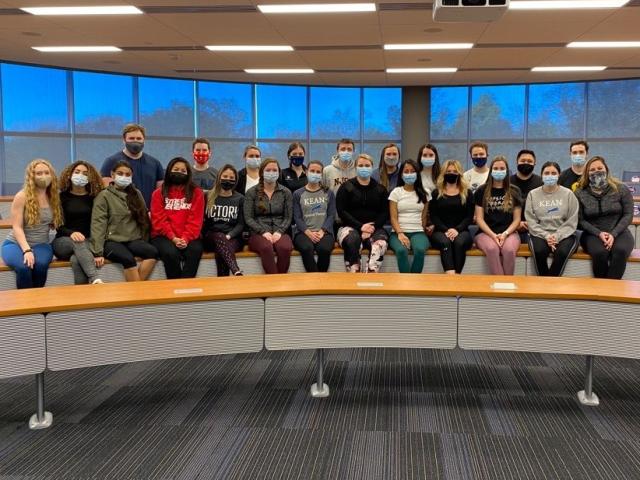 compassion and trust. I am pleased we were able to bring this tradition to Kean."
Class President Katelyn Matthews, of Glasgow, Pennsylvania, said the ceremony was an important milestone as the students become clinicians.
"It is a big step for us students to put what we have learned in school to real-life use in clinical experience and get us prepared for the future," she said.
Kean's School of Physical Therapy, accredited by the Commission on Accreditation in Physical Therapy Education (CAPTE), is part of Nathan Weiss Graduate College.
"We are proud of the success of our students, and happy to be able to hold our first traditional White Coat Ceremony," said Christine W. Thorpe, Ed.D., dean of Nathan Weiss Graduate College. "Our physical therapy doctoral candidates are about to embark on the final step in their academic journey. We wish them well in their clinical experiences and in their careers going forward."
The three-year DPT program requires classroom work in anatomy, patient advocacy, best practices and more, as well as hands-on clinical experiences. Following graduation, students also must pass a licensing exam to become physical therapists prepared to work in hospitals, medical practices, rehabilitation centers and other settings. 
Locke, who joined Kean in 2020, said Kean had not held the ceremony previously in the School of Physical Therapy, but both she and the students wanted to start a new tradition. The class officers held meetings with faculty to plan the event and work out details. Complicating matters was the pandemic.
"I have participated in many ceremonies, but all have been face-to-face," Locke said. 
Friends, family and faculty watched the ceremony, which included a keynote address from Kean 2019 alumnus Adrian Lorenzo, DPT, encouraging the class as they prepare to enter their careers. The students stood and recited the Physical Therapist Oath in which they vowed to "respect the rights and dignity of all individuals and ... provide compassionate care" in their professional practice. In a PowerPoint presentation, the students were first pictured in scrubs and then wearing their white coats.
Matthews, who will do her final clinical rotation at the James Van Zandt VA Medical Center in Altoona, Pennsylvania, addressed her classmates during the ceremony.
"Congratulations, classmates, we are one step closer," she said. "This is not the way we envisioned the ceremony happening, but we are honored to celebrate this milestone. Wear your white coats with pride and integrity!"
Tagged