Graduate Student Brings Passion for Public Art to Kean Galleries in Water Is Life Exhibition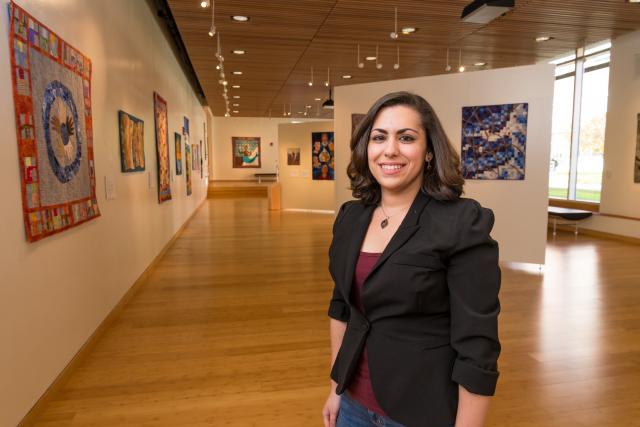 Art and the public good come together for graduate student Cristina Fittipaldi at Kean University Galleries.
Pursuing a master's degree in public administration after graduating from Kean in 2014 with a bachelor's in art history, Fittipaldi is now the graduate assistant at Kean Galleries. This fall, she worked in conjunction with the curators of the current quilt exhibition, Water is Life, now on display at the Human Rights Institute Gallery. She sees her work with University Galleries as the perfect combination of her two passions — art and improving the public welfare.
"I wanted to focus on how the public sector can help the individual. I started to see that museums are like nonprofits and nonprofits help the community," Fittipaldi said.
Raised in a multicultural home in Bound Brook and fluent in three languages, Fittipaldi fell in love with art and decided to pursue it as a career after a visit to Italy. She believes the educational programs and exhibitions in museums offer us the opportunity to better understand world issues.
"Human rights and public policy go hand-in-hand, and art can bring that to the forefront of our culture," she said.
Water Is Life, organized by Dick and Allison Wilbur of Quilt for Change in partnership with the United States Mission to the United Nations in Geneva and American Exchange Rome, features 39 quilts created by artists from seven countries that examine how women and girls around the world are affected by the global water crisis. In their quilts, the artists explore the impact of mining on water, the deterioration of coral reefs, the importance of water to farming and other themes. It was first shown in Geneva, Switzerland at the United Nations Headquarters
"The quilts — some of them tell horrible stories — but they are presented with elegance to bring awareness to the topic," Fittipaldi said.
Neil Tetkowski, director of Kean University Galleries, looks to bring thought-provoking exhibitions with a social message to Kean's galleries, and recognizes how that mission dovetails with Fittipaldi's academic pursuits.
"Cristina is very adaptive, and it's a great program because the work she does here relates to her interests looking into the future."
Set to graduate in 2019, Fittipaldi plans a career in art.
"I want to work for a nonprofit museum, where I can make an improvement in the community," she said.
The Water is Life exhibition is on display at the Human Rights Institute Gallery at Kean through Wednesday, December 12.  It is free and open to the public.
Tagged