Graduation Incentive Program Encourages Students to Earn Their Diplomas in Four Years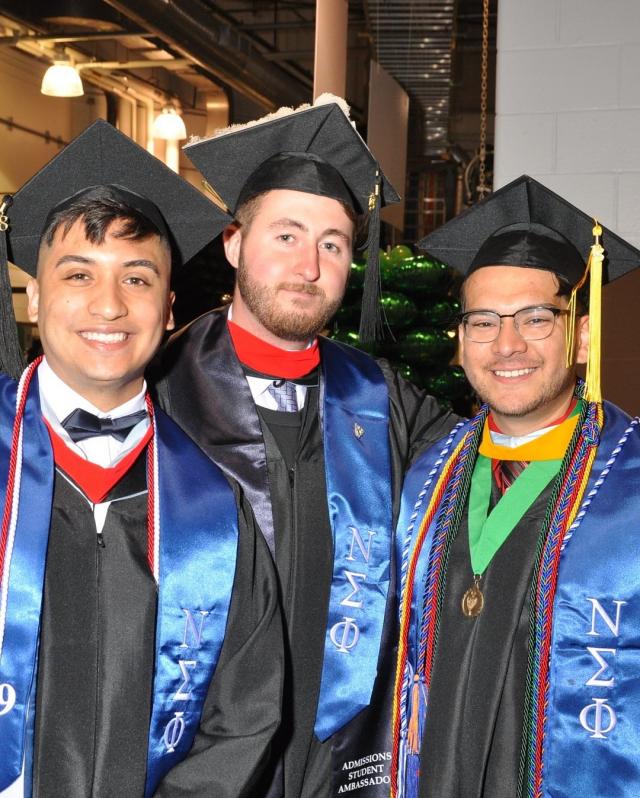 A new program at Kean University offers academic support and financial incentive for students to graduate in four years, giving those who are close to earning their degrees an extra boost.
The Graduation Incentive Program awards $1,000 to qualified seniors to help defray the cost of taking summer courses to complete their degrees in four years. In its first year of operation, the program resulted in 65 additional students graduating on time, contributing to a nearly five percent jump in the four-year graduation rate.
"Every extra year that students spend in college takes a financial toll and delays their launch into the professional world," Kean President Dawood Farahi, Ph.D., said. "At Kean, we are doing everything we can to provide students with the support they need for academic success and incentives to encourage them to graduate in four years."
Thomas Gabriel from Springfield earned his bachelor's degree in psychology in the summer of 2018. When he learned he also earned the $1,000 graduation incentive award, he called Kean's scholarship office to ask, "Is this real?"
"The Graduation Incentive Program was one of the best surprises I received following graduation," Gabriel said. "It made me feel like I had Kean University rooting for my success."
A graduation audit team in the Registrar's office identifies students who meet the criteria, and then works with deans, program coordinators and faculty to enroll the students in the summer courses they need to complete their degrees in four years.
The program is open to students who started in the Fall semester and attended Kean for four years — eight consecutive semesters — and need six to 14 credits to graduate after their final Spring semester. A separate $500 award, the Empowerment Scholarship, may benefit qualified students who need less than six credits to graduate.
John Simons of Cape May received a bachelor's degree in fine arts in August 2018. He recently thanked the Board of Trustees for the program that turned his life around last year after he realized that he needed two additional courses before he could walk at commencement with his friends.
"I could not tell them that I would not be celebrating our four years together," he said. "It was not until enrollment staff told me about the Graduation Incentive Program that everything began to improve. I put forth the effort during summer session, and I successfully completed my two classes and graduated in four years. I am now fully employed — in the field in which I studied."
The graduation audit team is currently identifying students who qualify for the Graduation Incentive Program this year, aiming to exceed last year's results.
"This is truly a collaborative effort between academic affairs and enrollment services that benefits both our individual students and the institution as a whole," said Marsha McCarthy, vice president for enrollment services.