Kean Athletic Training Student Wins NFL Scholarship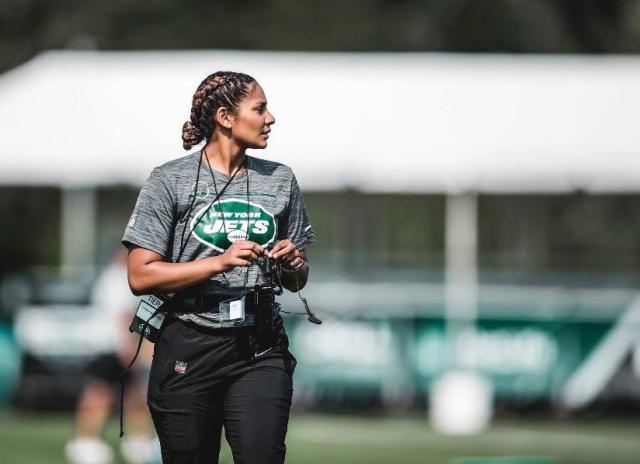 A Kean University athletic training student doing her clinical rotation with the New York Jets has received a scholarship designed to encourage female and minority students to pursue a National Football League career.
The award from the NFL and the Professional Football Athletic Trainers Society was given to senior Tianna Marquez, who is from Paterson.
"Being able to do my clinical rotation with a professional NFL team is a dream come true," Marquez said, adding that she was "surprised and honored" when the Jets' head trainer presented her with the scholarship.
Kean's athletic training program has placed clinical interns with the Jets for six years. Kean also recently entered into a new academic partnership with the football team.
"We are grateful to the NFL and the Jets for continuing to lift up and support Kean University, this time with a scholarship for one of our outstanding athletic training students," said Kean President Lamont O. Repollet, Ed.D. "We are thrilled to be working with the Jets on developing curriculum, and supporting internships and potential future career opportunities for many more of our students."
Marquez has worked alongside Jets' athletic trainers since last summer. She sets up and breaks down equipment for practice, participates in rehabilitation protocols, such as stretching and mobility techniques, with the athletes, assists with treatment of injuries, prepares trunks for away games, and more.
She worked on the sidelines of the Jets' Green and White scrimmage at MetLife stadium and hopes to be back on the sidelines during a regular game later this month.
"I spent many Sundays watching football with my family and instead of watching the game, I paid more attention to the medical staff who would run out to the field and treat the athletes," Marquez said. "I consider myself very fortunate that I have been given the opportunity to shadow and learn from the New York Jets athletic training staff. This is an experience that I couldn't get anywhere else." 
Kean Athletic Training Program Director Ray DiVirgilio said Marquez is one of two athletic training students currently doing clinical rotations with NFL teams; the other is Arienne Sauvignon-Howard, a senior from Massachusetts who is working with the New York Giants.
"It's a great experience for students," DiVirgilio said. "Not many students can say, 'I worked with a professional team as an undergraduate.' We also have students we place at Rutgers, who get the D1 athletic training experience, and we have students at high schools and other settings. All of our students gain valuable experience through their clinical rotations."
Marquez, who graduates in the spring, plans to seek a graduate assistant position and pursue her master's degree. She said she hopes to become an NFL athletic trainer in the future.
Students in Kean's athletic training program study gross anatomy, injury evaluation, therapeutic modalities, general medicine and more. They must maintain a 3.0 GPA. 
DiVirgilio said the program will transition to a master's-level program next year.
"It's not an easy program," he said.