Kean Esports Arena Wins 'Best Esports Project' Award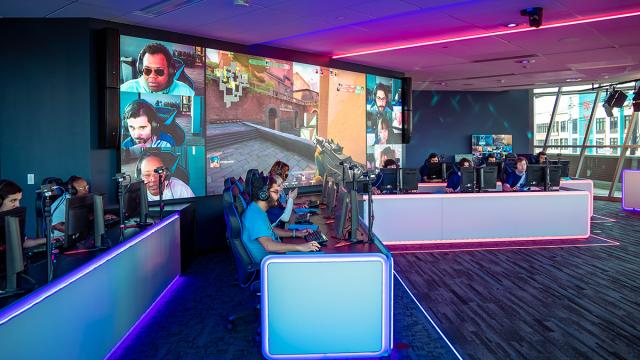 Kean University's new esports arena has been honored with an industry award for Best Esports Project from a leading technology trade magazine.
The Commercial Integration awards, presented by the trade magazine Commercial Integrator, honor "the most awe-inspiring, immersive and experiential AV projects," according to the magazine.
"We created the esports arena at Kean to provide our students the opportunity to enter competition in intercollegiate esports as well as an exciting way to socialize on campus," said President Lamont O. Repollet, Ed.D. "The award from Commercial Integrator demonstrates the attention to detail taken in developing the esports arena, which is already a huge success with students. We are very proud of this project."
The esports arena opened on the second floor of the Green Lane Academic Building in March. The 3,000-square-foot space features a large screen for competitions, space for up to 50 spectators, state-of-the-art computers built for gaming, and gaming consoles including Nintendo Switch, Sony PlayStation 5 and Xbox.
Kean's Office of Facilities and Campus Planning worked with the University's Office of Computer and Information Services (OCIS) and Kean Athletics to develop the space. Horizon AVL, of Blackwood, New Jersey, installed it.
"The esports arena is a state-of-the-art facility, with special lighting, surround sound and a gaming video board to stream the contest," said Kean Athletic Director Kelly Williams. 
Kean's esports team competes against other colleges and universities as part of the Eastern College Athletic Conference. There is also recreational time at the arena available for the Kean Esports Club and other students.
"Kean offers a unique, one-of-a-kind experience," Williams said.
Kean Assistant Vice President for Facilities and Campus Planning Steve Remotti said President Repollet proposed the idea for the arena, then the planning office partnered with OCIS to design it. 
"We're absolutely thrilled and hope the program continues to grow," Remotti said.
Horizon AVL worked with Kean to develop the facility based on "curriculum, community and competition," said company Chief Executive Officer Joshua Kell.
The look of the Kean arena is "retro 80s," with clean lines, color-changing LED's and an almost "Tron-like" gaming feel, he said. "This space is truly engaging to a culture and community like no other space that we have created in the past. We are excited to see the esports program at Kean University continue to move forward," Kell said.
Kean student Olivia Zajkowski, a senior chemistry major, was one of the first players to use the arena at the grand opening in March. 
"Walking in, I actually got really excited because this is brand new. I've never experienced this before," she said. "I'm happy that others are going to be able to experience this."
Tagged