Kean Gospel Choir Opens for Rockettes at Radio City Music Hall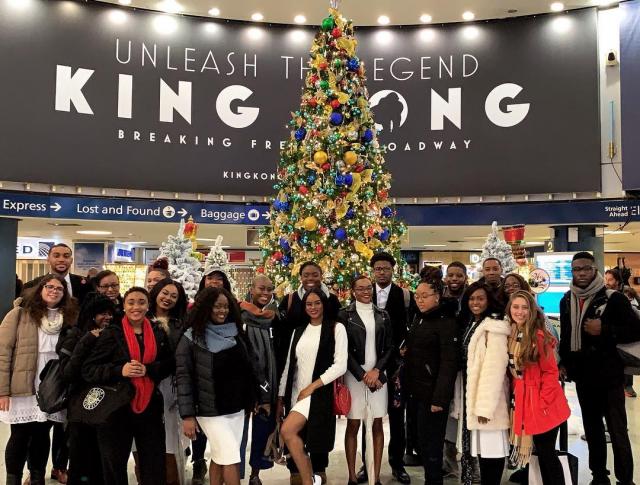 Make some room, Rockettes: the newest performing group to grace the stage of Radio City Music Hall is the Kean Gospel Choir.
The award-winning choir performed on Sunday, December 2 at the legendary Radio City in New York City, opening for the annual Christmas Spectacular show.
"The experience was amazing!" said choir Director Malcolm J. Evans '15, '17 M.A., who arranged the Christmas medley the group performed, which included O Come, O Come Emmanuel; O Come, All Ye Faithful; and Joy to the World.
An audience of about 6,000 enjoyed the performance.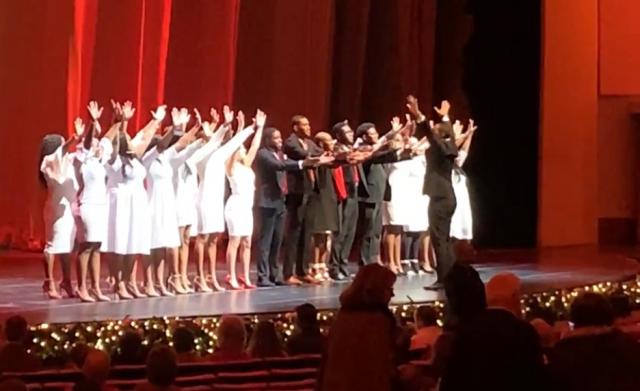 "Standing on the stage gave you a sense that you were a part of something historic. It was a humbling experience. Also, they pronounced Kean correctly, which is always great," Evans said.
Backstage, Evans had a conversation with a stage manager, who listed some of the other performers and events that had graced the famous stage: Luther Vandross, Michael Jackson, David Bowie, Tina Turner, Rod Stewart, Madonna, Beyoncé, Liberace, and the first MTV Video Music Awards. As well, the venue is known for the high-kicking Rockettes.
"He wanted to impart in us a sense of weight of the moment," Evans said. "We've performed in front of crowds before, but Radio City is one of those iconic venues that you dream of performing in."
The Kean group was recommended for the gig, but choir members do not know who made the recommendation to Radio City, said Shakira Jackson, a choir member and one of the group's public relations coordinators. You might say it's something of a holiday mystery.
"This experience taught me that you can never know what to expect. I am still surprised we were given this opportunity," Jackson said. "The audience was very engaged, which made everything more amazing. I couldn't be any more grateful."
The Kean Gospel Choir is a volunteer group of Kean students from different majors, many of whom grew up singing in church choirs, and who want to continue sharing their talent. Among its many awards and accomplishments, the choir won McDonald's Gospelfest for three straight years; recorded and released a single, Behold Him; and performed with Sons of Serendip at a Kean Stage concert.
Kean's student organization offered reduced-price tickets and transportation to the Radio City show, allowing students the opportunity to see the choir. Tickets were available for $10 each and sold out.
Kean has been very supportive of the choir, Jackson said.
Richonda Fegins is an alumni choir member and vocal coach. Fegins joined the group in 2016 as a first-semester graduate student looking to connect with like-minded students and has remained involved up to and including the Radio City performance.
"The best part about being able to open up for the Rockettes was the fact that I was able to share this memory with my choir," Fegins said. "It is a huge accomplishment and opportunity for us, and I am just so proud of how far we have come."