Kean Grad's Film Project Lands on Amazon Prime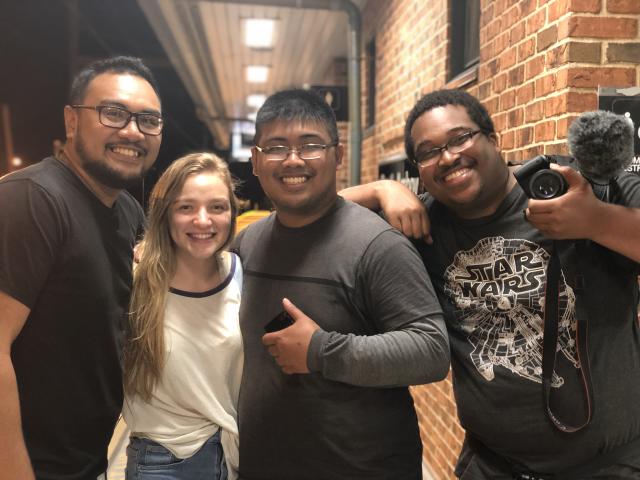 Kean alumnus Johnny Le '20 filmed a science fiction suspense drama series over weekends at Kean and elsewhere across New Jersey that is now streaming on Amazon Prime.
Le worked with his best friend from high school and a cast that included other Kean alumni to create the eight-part series, Timelapse, on a modest budget, piecing together funding through earnings from part-time jobs. 
The team submitted the series directly through Amazon Prime Video Direct. The limited series, which focuses on time travel, is also available on Vimeo, TubiTv and Hoopla. Le said the series has logged thousands of minutes streamed on Amazon since it was released in November.
"I was actually very surprised. It motivates me to keep writing," Le said. "I like to tell stories. I really believe there's no such thing as a bad story."
A communications media/film graduate from Sayreville, Le said he and his co-producer/director Louis Richardson, who also wrote the screenplay, have been making films together since high school.
"I love film. I grew up putting stuff on YouTube," Le said.
When he got to Kean, Le became involved with Kean TV. Lecturer Gina Gili, advisor for the student-run KeanTV, recalled Le as a "film kid through and through."
"He was creative. He always had a camera in his hand," she said. "It doesn't surprise me that he's taking off. I think we'll see big things from him."
Other Kean alumni in the cast and crew include Michael Moran '19 of Union, who earned a degree in communication, and Vincent Legaspi '20, a communication media/film grad.
Moran said he met Le several years ago and offered to help with his films. 
"He reached out one day telling me that he had a big script in the works and he had a part for me to play," said Moran, who also helped with sound and transportation on the film. 
The team filmed Timelapse in 2019. Scenes also took place at Keansburg Amusement Park and locations in Sayreville, Edison, South Brunswick, New Brunswick and East Brunswick. At Kean, they filmed in the Center for Academic Success and outside of Miron Student Center.
Le said the film has a coming-of-age element in addition to a science fiction focus. "After crossing paths with a mysterious cloaked figure, Donnie struggles to keep his already deteriorating group of friends together as they try to figure out what to do with their newfound time travel device," the Amazon description reads.
Spoiler alert – the time travel device that is the centerpiece of the story is actually an old Sony radio with the brand name scratched off, one of many odds and ends the crew used for props.
"It's about what you would do if you found a time travel device. To what extent would you use it?" Le explained.
Le now works as the media manager at a coffee company, doing social media, video and photography. He plans to continue working on films and is in the early writing stages of a new project.
This time, he and Richardson are envisioning an action film.
"With every film we like to take one step forward, find a new challenge," Le said. "At the end of the day, it's not about making millions of dollars. I would just love to be a filmmaker."
Tagged