Kean to Hold Lavender Graduation Ceremony for LGBTQIA+ Students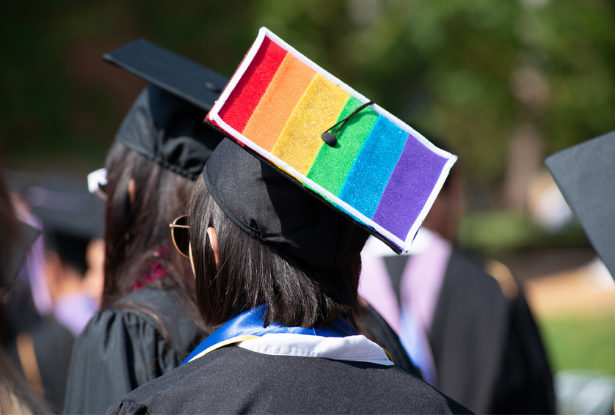 Kean University will hold its first Lavender Graduation Ceremony for LGBTQIA+ students to celebrate their academic achievements in a safe and supportive environment.
The virtual ceremony will take place on Friday, April 23 at 4:30 p.m. and is sponsored by the Office of Diversity, Equity and Inclusion as well as the Human Rights Institute and the Community Wellness and Counseling Center at Kean.
"Kean values and welcomes diversity in all its forms, and we are looking forward to celebrating our first Lavender Graduation and establishing a new and important tradition at our University," said President Lamont O. Repollet, Ed.D. "The event will create a safe and welcoming space for members of the Class of 2021 who identify as part of the LGBTQIA+ community and their guests." 
Ronni Sanlo, Ed.D., a lesbian who was not invited to her childrens' graduation ceremonies because of her sexual orientation, created the first Lavender Graduation in 1995 at the University of Michigan as a final, positive experience for gay and lesbian students before commencement. It is held at hundreds of colleges and universities nationwide.
Kean's virtual ceremony will feature a keynote address by Sanlo and a presentation about each participating graduate, including a photo, major and minor, preferred pronouns and inspiring quotes or fun facts. The students will receive a lavender cord that they can wear to Kean's in-person commencement ceremonies in May if they so choose.
"Many gay, lesbian and other students in the LGBTQIA+ community have not officially come out to their family and friends and, unfortunately, are not able to really be themselves at the regular commencement ceremony," said Tamika Quick, executive director of diversity, equity and inclusion. "This gives us the opportunity to acknowledge them in a ceremony where they can invite their peers and supportive friends, family members and allies. 
"Lavender Graduation does not replace the general University commencement. This is something additional. It's another way that we can show that we care about these students, who can be marginalized and discriminated against. At Kean, we want to say it loud and clear, 'You are welcomed here; we include all.'"
Lavender Graduation will join the African Heritage Graduation Ceremony at Kean as special pre-graduation events celebrating graduating seniors in the University community. The virtual African Heritage Graduation Ceremony, honoring students' personal success and academic achievements in the spirit and traditions of African culture, will be held Saturday, May 8.
Kean will hold in-person outdoor commencement ceremonies for the Class of 2021 at Alumni Stadium on the Union campus from May 12 - May 15. 
Students wishing to participate in Lavender Graduation must register here by Sunday, April 18. For more information, email dei@kean.edu.